Something For Everybody
CD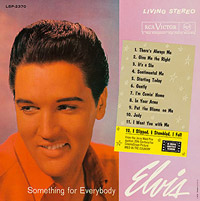 Released: 2006/04/01
by FTD
2 CD FTD version of this classic release.
ElvisNews review
FTD's last outing in the original album art series is this classic from the early sixties.

Design

As all previous releases in this series it is well designed and taken care of. A nice booklet with pictures, info and memorabilia, original labels on the CDs, in other words: perfect!

Content

If there is one title of an Elvis album that covers the content… it is this one. It really is something for everybody: beautiful ballads like "There's Always Me", swinging up tempo songs like "Put the Blame On Me" and bluesy tracks like the haunting "Give Me The Right". Add to this the hitsingle that probably had the best double A-side "His Latest Flame"/ "Little Sister" and you have a winner. Well, you had a winner in the extended release of a couple of years ago on the main label.

For this FTD outing – a collector's item – it seems a bit different. Even most of the outtakes were available before (not counting the bootlegs) and somehow that spoils the fun a bit.

Nevertheless what remains is a very enjoyable collection, with Elvis in top voice and a well balanced song selection. Still we wonder how more often we are going to buy the same stuff over and over again. What is next? Orignal album art series on original format?

It looks like we are not the only ones with this feeling, since when "Today" and "Elvis Is Back" were released in this series, they got quite some votes for the FTD Top 20 in their first week, while both recent FTD releases didn't get a single vote in their first week.

Conclusion

A nice collection, let's hope it's the final one of this session.
Tracklisting