Elvis NBC TV Special - The Vinyl Classics Edition
CD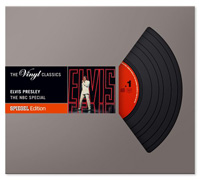 Released: 2005/08/16
by BMG
Vinyl Classics reissue of the 1968 album comes as a vinyl look-a-like CD that's packaged in a die-cut see-through Slipcase.
ElvisNews review
Released in Germany in a series called "The vinyl Classics" was Elvis 1968 album "The NBC Special" in the "Spiegel Edition" (a German magazine).


Design

This re-release comes in a silver slipcase with the booklet hidden behind the CD so you can see the "vinyl grooves" on the disk. Next to it a small version of the original cover art of the album. And we must say CDs that look as the old fashioned vinyl do have something special. But on this small size part of the effect is lost. If you make a vinyl edition, why not work more in the line of the soundtrack releases the Follow That Dream label offers (pay attention Ernst, perhaps the black vinyl look is an idea for the FTD label) or make a real album sized cover to present the CD in.

The booklet is as we know it, so nothing new here.

Content

Sadly the same goes for the content. We get the original album in the original quality. Would have been good to get some re-mastered material. No complaining on the quality, reviewing this CD was a good reason to play this album once again.

Conclusion

This Special Vinyl Classic Edition CD adds nothing other than a different looking CD to you collection, get this edition if you don't have the original one, otherwise, you can skip it easily. The classic original cover is worth getting CD size, not stampsize as on this slipcase.
Tracklisting