Memphis Recording Service in association with JAT Productions will release the next Elvis Presley title 'Such A Night in Pearl Harbor' in March 2012. It will contain a completely new re-mastered CD of Elvis' performance of the benefit concert recorded at Pearl Harbor, Hawaii on March 25th 1961 to aid of the USS Arizona Memorial Fund.
The quality is of this concert is far superior than anything of this ever released before and will now be considered, one of the best Elvis concert recordings up until that time. Amazing samples of this will be available in the coming week.
Elvis performs 15 songs and sings every one as if it were the first time he had ever presented them to an audience. This includes many #1 hits and includes classics that were never performed previously or again such as 'A Fool Such As I', 'I Need Your Love Tonight' and more.
Also included for the first time ever, is the 30 minute radio broadcast from Hawaii a week before Elvis' arrival. It promoted the concert for the memorial fund, playing selected tracks from Elvis' Christmas and 'His Hand in Mine' album, released at that time including words by Elvis Presley.
As a bonus, the CD is accompanied by a 100 page hard back book that contains many rare photographs with extensive and informative linear notes detailing Elvis' arrival and performance in Hawaii.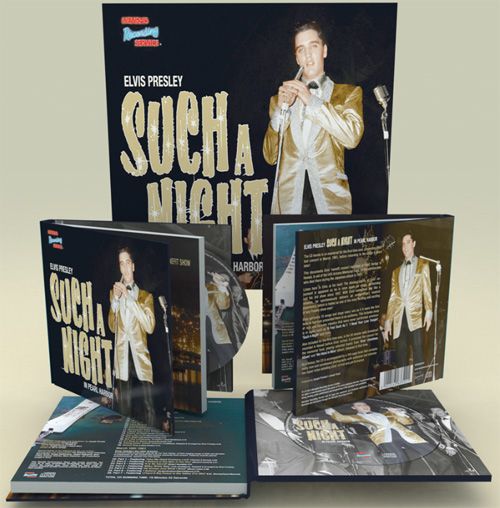 Hawaii: For God And Country
A couple of hours later we received news that the unknown label 3764 BLVD Publishing will release the same material with the title Hawaii: For God And Country on March 26.
Their press-release:
The complete benefit show for the Arizona Memorial fund plus the radio broadcast from Uncle Tom's Cabin a few days earlier to promote the Elvis Show.
This historical show is the only one available of the only 3 shows given in the 60's before Elvis disappeared from the stage for 8 years. Only 3 days later he started filming "Blue Hawaii".
The audio is remastered and optimized for maximum listing pleasure; priority has been given to historical value. Nevertheless it will be a thrill to discover the excitement of the only Elvis Show in 1961 recorded to date. The sound on this release is a significant improvement over earlier versions.
A 24 page booklet accompanies the CD (with more than 74 minutes running time), to give detailed background info + many rare photos in b&w and in color. Also included are clippings, articles and items from the show and the fund raising.
THE FIRST 1000 copies will just like in 1961 be numbered

THE ELVIS SHOW
01 Introduction
02 Heartbreak Hotel
03 All Shook Up
04 A Fool Such As I
05 I Got A Woman
06 Love Me
07 Band Introductions
08 Such A Night
09 Reconsider Baby
10 I Need Your Love Tonight
11 That's All Right
12 Don't Be Cruel
13 One Night
14 Are You Lonesome Tonight ?
15 It's Now Or Never
16 Swing Down Sweet Chariot
17 Hound Dog

THE SPECIAL RADIO BROADCAST

Elvis and the Colonel pay tribute to the victims of Pearl Habor 1941 presented by Tom Moffat in a special radio broadcast from Honolulu, Sunday ,March 19, 1961
18 Introduction and promotion for the U.S.S. Arizona Memorial benefit Elvis
Show on Saturday 25th.
19 Take My hand Precious Lord
20 Tom/ EJ Solomons (US. Navy Admiral )
21 I Believe In The Man In The Sky
22 Dialogue/ Neal Shaw Blaisdell (Mayor of Honolulu)
23 It's No Secret
24 Tom/ Mr. H.Tucker Gratz (Chairman of War Memorial Commision).
25 Milky White Way
26 Tom/George Chaplin* (Editor of Honolulu advertiser)
27 He Knows Just What I Need
28 Tom / William F .Quinn (Governor of Hawaii)
29 I Believe
30 Tom/ Morley Theaker (Sears manager, In charge of the Ticket sales)
31 Tom /Calls Elvis from his "Uncle Tom's Gabin" in Hawaii, they talk about a
special broadcast for the U.S.S. Arizona Memorial benefit.
32 The Last Post / Tom
33 Peace In The Valley
34 Tom /Credits.