50.000.000 Elvis Fans Can't Be Wrong
September 04, 2010

| Music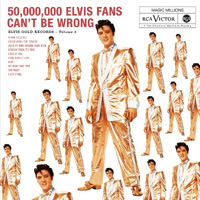 The Dutch Music On Vinyl company re-issued the classic "50.000.000 Elvis Fans Can't Be Wrong" on vinyl containing 20 tracks.

Source:
ElvisDayByDay.com
Related links
Amazon.uk has this listed as the FTD CD!
Tony C
wrote on
September 05, 2010
This is one of the most iconic album covers ever and has been copied, along with the design of his first album, by many other artists. The first copy of this LP I ever owned was the early seventies UK issue with a different cover, the one with the very close up full face picture. A couple of years later I found a French import with the gold suit cover and was amazed by the design, I wondered why the French had changed it, whereas it was my UK pressing that was wrong. As an album, it has a very strong selection of songs, it was the third and last filler album until Elvis was back from Germany. It is good that vinyl pressings are still being made, the cover needs to be that size to be seen in all of it's glory.