50,000,000 Elvis Fans Can't Be Wrong
CD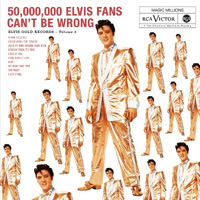 Released: 2007/04/01
by FTD
These reissues feature original album cover art and great additional recordings not included on the original release. The included entire June 10, 1958 sessions to give you the experience of following Elvis through a whole night of sessions.
ElvisNews review
For those that did not notice yet: a real classic album is released in this FTD series. Let's try to answer the quickpoll question of the moment "Is this release also a classic?".

Design

Whether you like it or not, this cover is a real classic. Probably one of the most imitated album covers ever. So FTD could hardly go wrong here… but they did it again: unfortunately it isn't the real original artwork That cute little HMV doggie has gone out and is replaced with the old RCA logo. Probably it has to do with the disclaimer at the back of the cover "The enclosed record graphics are simulated to reflect the original issues. While every effort is made to replicate artwork, some original logos, labels and wording have been changed for legal reason". It's understandable, but still ridiculous!

The booklet was missing in my copy, but gladly I could manage to borrow it from someone (who doesn't know yet ;-)). It is nice with lots of session info and great memorabilia. The only minus in my eyes is the strange halo that Elvis has on the two pagesize colour pictures. I know he is almost holy to a lot of fans… but it goes too far for me.

Content

Music wise FTD could not go wrong with this album, at least not for me… since this is Elvis at his best. I used to have the album on a cassette tape back in the seventies and had to replace it pretty soon with the album (unfortunately the stupid European version). I wore out the tape completely. There was only one song I didn't really dig at the time: I didn't like the high howling in "My Wish Came True". To be honest, I still think it is one of his weakest songs, certainly of the 50s.

This is the only slightly negative thing I can come up with on this album (ouch, that hurts!). Even the (other) ballad "Don't" was a beauty in my ears – while I was not at a ballad age at all, normally everything had to rock.
The bonus masters "Your Cheatin' Heart", "Ain't That Loving You, Baby" and "Doncha' Think It's Time" (single master) are obvious additions and on the same level as the original album.

With a lot of full session discs there is almost always a point that I get a bored nervousness over me and I have to abort it. That's why I liked "Totally Stung!" so much. Still with these songs I don't get that feeling, I played both discs twice today without having the urge to press the stop, skip or whatever button.
I already saw some complaints that there isn't too much new on these discs, but I have to stress it once more: not every fan has access to bootlegs or wants them. It's the job of FTD to make this material available to everyone!!

On the sound I can say only two words: "Kevan Budd". Thank God, Buddha, Allah or even Elvis himself for not having that woman with the same initials as me behind the equipment!

Conclusion

I have one: "alter your votes for the FTD Top 40!", at least I will. Thanks Ernst & Co!
Tracklisting