Way Down (CD-single)
CD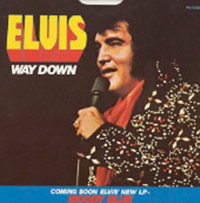 Released: 2005/04/18
by BMG
A detailed re-release with original USA cover art. With extra bonus track Pledging My Love / Way Down (Alt Bonus Version).
ElvisNews review
The sixteenth single from the re-issue series is "Way Down", the last of the "old" singles in this #1 re-issue series. The single hit #1 originally on the Top 40 dated August 13, 1977, three days before Elvis death.

Design

This CD-single comes in the original US cover for the outer sleeve. The inner cover is seventies style too.

Content

"Way Down" is one of the few "rockers" Elvis released in the seventies. Not Elvis' favorite material, he tended more for the emotional ballads like last weeks single 'The Wonder Of You". But the #1 position for "Way Down" shows Elvis could still rock, both in the studio and on the charts. If only he had released a few more rockers like this, "Burning Love" is also a favorite of many both fans and none fans. JD Sumner's voice trying to blow the speakers going "way down" matches both the song and title. We can appreciate JD's voice more this way than the tricks Elvis made him do on stage as "the world's lowest bass singer".

The bonus track on this single is an alternate take of "Way Down". It sounds a bit rawer that the master, the piano is more up front and gets more "playing time", especially to the end of the song.

The flip side "Pledging My Love" is what we'd call an "up-tempo ballad", the song matches Elvis' voice very well.

Conclusion

We are curious to see how this last old single will do in comparison with the last single in this #1 re-issue series, the remix of 'A Little Less Conversation" which is a favorite of a younger and broader crowd.

For those who don't care too much about the charts, these detailed reproductions are real gems to collect on either CD-single, vinyl (or both …).