Crying In The Chapel (CD-single)
CD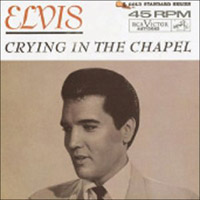 Released: 2005/04/04
by RCA
A detailed re-release with original USA cover art. With extra bonus track I Believe In The Man In The Sky / Milky White Way (Bonus Track).
ElvisNews review
Elvis' 15th UK #1 hit, and last release in the sixties to make it to that spot only to return there in the seventies for one appearance. The next #1 hits required modern techniques or a special marketing campaign.

Design

This CD-single comes in the original US cover for the outer sleeve with a slick image of Elvis and a lot of advertisements (free advertisement space as the Colonel called it), the inner sleeve contains a copy of the original UK wrapper, a standard RCA sleeve. The vinyl edition only has the original UK sleeve, so no picture sleeve. Again the "limited edition" number is printed over the track listing of the advertised albums on the back cover that could have been solved better. Also strange to see they used the "Gold Standards" re-issue series as the "original" cover art.

Content

This single can be described as a sacred goodbye to #1 success in the sixties. A favorite among many fans, but a bit too sacredly performed to our liking. Not that it is not sincere or something like that, it simply doesn't have the feel of the upbeat , happier sounding, black spirituals like "Joshua Fit The Battle" and "Swing Down Sweet Chariot" we know Elvis loved to perform. Elvis shows great voice control on this song, and regarding his other releases up to this one, he must have turned a few ears when this material was played on the radio forty years ago (yes it has been that long ).

The "B-Side" of this single is "I Believe In The Man In The Sky" is more to our liking; perhaps the harmony with the Jordanaires does the trick. Elvis and those four men usually are a good combination and are used to singing gospels together, if only to warm up for a recording session. The bonus track on this single is not an alternate take; we get "Milky White Way", another track from Elvis' gospel album "His Hand In Mine". Again a more up tempo tune praising the Lord. Listening to this performance we hear that praising the Lord can be done in many different ways, and doesn't have to be all formal.

Conclusion

Three matching songs, showing that gospel material, and a personal whish by Elvis' which not everyone appreciated on fore hand when news of Elvis recording a gospel album hit the streets, can be both an honest and integer achievement and commercial success.

For those who don't care too much about the charts, these detailed reproductions are real gems to collect on either CD-single, vinyl (or both …).