Devil In Disguise (CD-single)
CD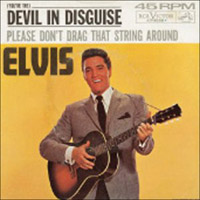 Released: 2005/03/28
by RCA
A detailed re-release with original USA cover art. With extra bonus track Please Don't Drag That String / Devil In Disguise (Alt Bonus Version) .
ElvisNews review
Counting down Elvis' UK #1 hits we reached #14; "Devil In Disguise".

Design

This CD-single comes in the original US cover for the outer sleeve with a slick image of Elvis and a lot of advertisements (free advertisement space as the Colonel called it), the inner sleeve contains a copy of the original UK wrapper, a standard RCA sleeve. The vinyl edition only has the original UK sleeve, so no picture sleeve. Again the "limited edition" number is printed over the track listing of the advertised albums on the back cover, that could have been solved better.

Content

The single "Devil is Disguise" is a happy upbeat song. Good guitar work, tempo switches and Elvis in good voice, and he show some of his voice control. The feel is there. This single secured another #2 spot for our man after the deception of "only" a #5 position for "Return To Sender". The alternate take are actual two takes and a false start, including studio whistling and chatter, the third time we get real studio bonus material. We're not sure if the casual buyer is waiting for that, but as a fan we always appreciate it. The third track is s strong version, with a bit faster instrumentals and more clapping hands, a nice strong version.

The "B-Side" of this single is "Please Don't Drag That String Around", matches the "A-side" of this single. A little less happy tune, but then, the theme is less jolly, so a good choice to combine these two tracks by the record executives or the Colonel in 1963..

Conclusion

Two matching songs, the title track is a personal favorite and strong song, so a #2 position in 2005 is only fitting, especially when the #1 is a charity single.
For those who don't care too much about the charts, these detailed reproductions are real gems to collect on either CD-single, vinyl (or both …).