A Little Less Conversation 2005
CD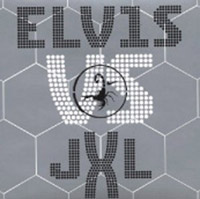 Released: 2004/04/25
by RCA
A detailed re-release with original USA cover art. With extra bonus track A Little Less Conversation (Long Version).

ElvisNews review
How can you review this CD properly. The track started out as the soundtrack for Nike's already highly talked about, worldwide advertising campaign, "Secret Tournament," that began airing worldwide in April and is scheduled to run through the 2002 summer's football World Cup. It almost became a real hype worldwide overnight. In the Elvis world there were a lot of discussions on "is this version Elvis or not". Basically it came down to either liking or disliking this mix and that's a matter of taste.

Design

The cover art of this release is a bit boring, but based on the Nike commercial design. Too bad they didn't add Elvis to the cover.

Content

On one hand you have the fans saying Elvis songs shouldn't be touched (they also refer to the "Guitar Man" album) and this isn't Elvis. On the other hand are the fans who accept that this is the adaptation of an Elvis song by a new generation. In this case the progressive DJ JXL, (Junkie XL), an Amsterdam based DJ/producer.

On the Alt.Elvis.King newsgroup we found seven reasons to love or hate this song which really sum up all you can say about this release.

7 reasons to love the remix of "A Little Less Conversation"

It's gonna be Elvis' 18th UK No.1
It took Elvis to make dance music sound good
It's gonna knock some shit-kicker pop star of the top slot
There'll be young girls with flat bellies coming to our local Elvis disco
Elvis fans get to be in fashion for the first time since 1957
It's gonna piss Cliff Richard off no end
More re-runs of 'Live A Little Love A Little'

7 reasons to hate the remix of "A Little Less Conversation"

Hey! they're screwing with the King's music here!
What's all those weird noises? sounds like bloody 'Star Wars'
Where's his picture on the cover? ahhh, the old singles had such nice pictures.
I bought the 12" single, but I've forgotten how to play vinyl! where's the crank handle?
The only Elvis song that features the word 'procrastinate' and you can't hear him saying it!
Six minute remix!!! I can't dance for six whole minutes!! I'll have a seizure! ohhh me back!
More re-runs of 'Live A Little Love A Little'

Conclusion

Overall this release is a good promotion of Elvis in the 25th anniversary year and it has put Elvis in the spotlight all over the world. We gave you a lot of reasons to like of dislike this version of "A Little Less Conversation", so make up your mind yourself.