Rock-A-Hula Baby (CD-single)
CD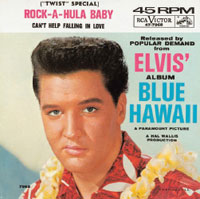 Released: 2005/02/28
by BMG
A detailed re-release with original USA cover art. With Rock-A-Hula-Baby / Can't Help Falling In Love / Can't Help Falling In Love (Bonus Movie Version)
ElvisNews review
Released by the Follow That Dream label is an extended reprint of the book "Elvis In Texas" under the title "Rockin' Across Texas".

Design

This book comes in a bigger format than its original in all ways. It has a hard cover, more pages and a better quality of paper. Although not all reactions were positive when the cover art of this book started circulating the World Wide Web, we can only say that it perfectly matches the theme; Elvis, Scotty, Bill and DJ live on stage on some Texas joint. That's exactly what the book is all about.

Content

As for the content, the book is bigger and better too. There is more information, more pictures, the timeline is extended and this release comes with two CDs.

The book reads as an extended "Day By Day" following Elvis footsteps in Texas between 1954 and 1977. The main part of the book, both information and picture wise is about Elvis tours between 1954 and 1956, followed by Elvis first army training in Fort Hood. The book ends with Elvis appearances in Texas while touring again in the seventies.

The early years

To be honest, this is the section we bought the book for. The personal stories from persons involved with Elvis early appearances at high schools, community centers and beer joints, illustrated with many pictures – both on and off stage – make an interesting read. The addition of memories from the audience and the memorabilia paint the complete picture.

The Army

This era of Elvis in Texas is better known, Elvis had made it big-time, not only in the United States, but globally. This section contains lesser new information and images.

On The Road Again

This is the last section and shows Elvis touring the Southern state of Texas in the seventies. Of course images from the record-breaking Astrodome concert are shown and so are other concerts from the seventies, mainly through pictures from collector Sherif Hanna. A big minor is that this section consists mainly of pictures, the authors could have added some text here too. We have enough picture books of the seventies with little text...

CDs

The book comes with two live shows recorded in the seventies; in Amarillo, June 19 1974 and in Ft. Worth, July 3 1976. It matches the era from the last chapter of the book, but we prefer fifties material on at least one of the CDs of this audiovisual documentary. Or is it that Ernst saves these for his upcoming Sun release? Looking at both shows, Elvis only changed nine songs in two years, the rest of the set are standards he simply had to play to please the crowd.

CD 1 - Amarillo, June 19 1974

On this recording of Elvis' performance from Amarillo our man is in a good mood, he says he'll do two to three hundred songs and to make the round again later for the girls. But does he deliver?

The sound of the recording is very flat, unfortunately so does Elvis; there is not too much variation in his singing, and only a few times he shows some of his vocal capabilities. The CD closes with an interesting interview with Elvis and The Colonel, not too much material exists of the last one (probably due to the fact that he charged $ 25.000 up front for an interview).

CD 2 - Ft. Worth, July 3 1976

The CD opens enthusiastically, but Elvis falls into his routine almost right after the opening. The audience is very active and reacts on our man; especially the ladies trying to get a kiss and the complete audience on his rendition of "America The Beautiful". And Elvis reacts on that too, he has a bit more spirit on "Polk Salad Annie" that we have heard during this performance. When Elvis changes the lyrics in "Polk Salad Annie" from "Down In Louisiana" to "Down In The State Of Texas" the crowd goes wild.

The thirteen minutes of band introductions with a few vague versions of the "introduction songs" and David Briggs trying to re-create the soundtrack for a laser fight from Star Wars on his keyboard are too much for us. We'd rather hear Elvis, and on "Love Letters" he and David actually made an effort. For a 1976 show Elvis is in good mood and delivers some fair versions. The sound quality of this show is better than the Amarillo show on the first CD.

Conclusions

On the book

The book offers a great read, but we already knew that because we read the original version of the book a few years ago. The fact that fifties expert Ernst Jorgensen read that book too is clearly visible. New pictures and stories are added and quite a few pictures change places in the book due to better information on the exact location and date. The use of glossy paper makes these old snapshots look much better than they did in the original release.

We do wonder why the Follow That Dream label republishes a book. We can understand the label republishes (deleted) albums to keep the catalogue complete, give the fans material they want to have and in the process make it harder for the bootleggers to release original material. Re-publishing books is not something we expected from the label. Don't get us wrong, we love the book, it has great pictures, interesting stories and looks really good and in contrary to the two previous book releases this book contains a lot of text; well at least for the fifties section. The Texas adventures of Elvis from seventies are told by the pictures as we are used from the previous two book releases. But basically it makes us buy the same material once more.

On the CDs

The addition of the CDs is a pro of the book; but not 100% what we'd like to see, or should we say hear. Perhaps we're getting a bit spoiled here; not only because of the three releases that we got this month but also due to the close to 40 Follow That Dream releases we got in the last six years. But we'd preferred a fifties recording, especially since the rumour is Ernst Jorgensen did find new live material. A few years ago we probably would have welcomed the release of these two shows with more enthusiasm; but we know there is a more inspired Elvis out there and we hope we'll get that too.

Overall conclusion

Despite our criticism we enjoyed this release very much and we mark this book as an "essential release" to get a good idea of Elvis early years trying to make it big time. We consider the addition of the seventies material – both the pictures and CD – a bonus.

Track listing: Amarillo, June 19 1974

1: See See Rider / 2: I Got A Woman/Amen / 3: Love Me / 4: Trying To Get To You / 5: All Shook Up / 6: Love Me Tender / 7: Hound Dog / 8: Fever / 9: Polk Salad Annie / 10: Why Me, Lord / 11: Suspicious Minds / 12: Introductions / 13: I Can't Stop Loving You / 14: Help Me / 15: American Trilogy / 16: Let Me Be There / 17: Heartbreak Hotel / 18: Funny How Time Slips Away / 19: Big Boss Man / 20: Can't Help Falling In Love / 21: Interview with Elvis and Colonel Parker from Odessa, TX 1960.

Track listing: Ft. Worth, July 3 1976

1: See See Rider / 2: I Got A Woman/Amen / 3: Love Me / 4: If You Love Me / 5: You Gave Me A Mountain / 6: All Shook Up / 7: Teddy Bear/Don't Be Cruel / 8: And I Love You So / 8: Jailhouse Rock / 10: Fever / 11: America / 12: Polk Salad Annie / 13: Introductions - Early Morning Rain - What'd I Say - Johnny B. Goode - Love Letters - School Days / 14: Hurt (w/ reprise) / 15: Hound Dog / 16: Funny How Time Slips Away / 17: Can't Help Falling In Love / 18: Closing Vamp.