His Latest Flame (CD-single)
CD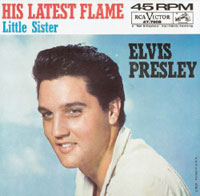 Released: 2005/02/21
by RCA
A detailed re-release with original USA cover art. With His Latest Flame / Little Sister / His Latest Flame (Alt Bonus Version)
ElvisNews review
The ninth single in a line of seventeen #1 re-issues.

Design

This CD-single comes in the original US cover for the outer sleeve, the inner sleeve contains a copy of the original UK wrapper, a standard RCA sleeve. The vinyl edition only has the original UK sleeve, so no picture sleeve.

Content

Never thought I'd go out and by one of my favorite Elvis tunes, "(Marie's The Name Of) His Latest Flame" as a charting Top 40 single. How good it is to be an Elvis fan these days. This song is featured two times on this single, an alternate take is the bonus song. There is not much difference between these takes, but we get this great rocker two times, so who is complaining?

This single contains two Pomus / Shuman compositions. Besides the already mentioned "His Latest Flame" the other song is "Little Sister". Somehow this song makes me think of the end of the sixties, this song is a bit ahead of it's time due to the rhythm and guitar sound.

Conclusion

Elvis had four #2 singles in a row, hopefully this single will make it to the top, the competition is less strong than last week … although the pre-sales figures don't look promising.

For those who don't care too much about the charts, these detailed reproductions are real gems to collect on either CD-single, vinyl (or both …).

Quiz!

Courtesy of BMG Nederland you can win a copy of Elvis' single "His Latest Flame", simply use the banner in the left menu.