Surrender (CD-single)
CD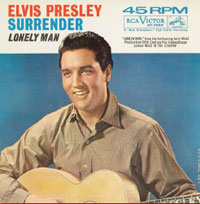 Released: 2004/02/14
by RCA
A detailed re-release with original USA cover art. With Surrender / Lonely Man / Lonely Man (Bonus Solo Track)
ElvisNews review
The sixth single in a line of seventeen #1 re-issues.

Design

This CD-single comes in the original US cover for the outer sleeve, the inner sleeve contains a copy of the original UK wrapper, a standard RCA sleeve. The vinyl edition only has the original UK sleeve, so no picture sleeve.

Content

This single contains the songs "Surrender" with ""Lonely Man" as the flipside and a solo version of the last song as a bonus track.

The A side song sounds like a follow up to copy the success of "It's Now Or Never". Especially on the European market of the early sixties this song must have appealed to the public, resulting in a #1 for Elvis in the United Kingdom. A great song, but overall too short, they could easily extend this song another minute.

"Lonely Man" comes from the movie "Wild in The Country" … and it shows. No this is not just because it is a soundtrack song, but it is typical background music, so it fits perfectly in a movie. We must say the solo bonus version is better than the B-side of the single. It sound more fragile and that fits the theme of the song.

Conclusion

Elvis missed out on the #1 spot two times in a row with "Are You Lonesome Tonight" and "Wooden Heart". Both songs probably could have made it to #1 easily if BMG had played the "laughing Version" card on the first single, many people simply want that version and if there hadn't been a problem with the vinyl editions of "Wooden Heart". Hopefully this follow up to "It's Now Or Never" will follow that single's chart result and get Elvis another #1.

For those who don't care too much about the charts, these detailed reproductions are real gems to collect on either CD-single, vinyl (or both …).

Quiz!

Courtesy of BMG Nederland you can win a copy of Elvis' single "Surrender", simply use the banner in the left menu on our portal.