Wooden Heart (CD-single)
CD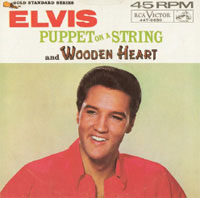 Released: 2005/02/07
by RCA
A detailed re-release with original USA cover art. With Wooden Heart / Tonight Is So Right For Love / Puppet On A String (Bonus Track)
ElvisNews review
The fifth single in a line of seventeen #1 re-issues.

Design

This CD-single comes in the original US cover for the outer sleeve, the inner sleeve contains a copy of the original UK wrapper, a standard RCA sleeve. The vinyl edition only has the original UK sleeve, so no picture sleeve.

Content

This single contains the songs "Wooden Heart" with "Tonight Is So Right For Love" as the flipside and "Puppet On A String" as the bonus track.

The song is an English adaptation of an old German folk song "Muss I Denn" and is originally taken from the "G.I. Blues" soundtrack. With German melodies still very popular when this single came out in Europe this song did very well on all European charts resulting in several #1 hits. In The Netherlands the song charted again in 1977 after Elvis' death, topping at #2 on the Dutch Top 40 chart. The song was too European in the view of his US record company that they decided not to release it in the US (only to see unknown Joe Dowell take his own version to the top of the charts instead).

"Tonight Is So Right For Love" is a much better song in our eyes, or should we say ears. It is much closer to Elvis' Rock And Roll image. The bass intro really gets this song going.
On "Puppet On A String" we have the same feelings as on "Wooden Heart", you either like it or hate it … the song just doesn't have it.

Conclusion

Elvis missed out on the #1 spot two times in a row with "Are You Lonesome Tonight" and "Wooden Heart". To be honest, with the A-side in mind we guess not many non-fans bought this single, so #2 is much more than we expected.

For those who don't care too much about the charts, these detailed reproductions are real gems to collect on either CD-single, vinyl (or both …).