One Night (CD-single)
CD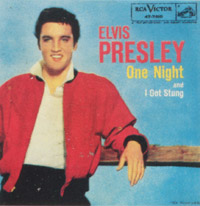 Released: 2005/01/10
by BMG
A detailed re-release with original USA cover art.
ElvisNews review
To celebrate Elvis' 70th birthday The Official Elvis Presley Fan Club and Sony BMG came up with the idea to release all of his 18 UK #1 hits over 17 consecutive weeks from January 3 to April 25, starting with "All Shook Up" and ending with "A Little Less Conversation". Sony BMG hopes that by releasing all of Elvis's previous chart-toppers he will be able to claim the coveted 1,000th number-one slot early in the new year. Besides that "milestone" Elvis can also gain several other records as most #1's, most Top 10 singles and most singles listed at once in the chart.

The re-release of "Jailhouse Rock" did the trick, giving Elvis his 19th UK #1 single and the 999th number one since the singles chart was launched in 1952. Can Elvis also score the 1000th number one with the re-release of his single "One Night"?

Design

This CD-single comes in the original US cover for the outer sleeve, the inner sleeve contains a copy of the original UK wrapper, a standard RCA sleeve. The vinyl edition only has the original UK sleeve, so no picture sleeve.

In contrary to the "Jailhouse Rock" / "Treat me Nice" single, this one has the same picture on both sides. The single also has the vinyl touch making it a real collector.

Content

The CD-single contains three songs; the original A and B side "One Night" and "I Got Stung" and the dirty 'One Night Of Sin". The first one is a typical fifties song, describing the urges of the youth. The additional bonus song is the "dirty" version, describing what the youth really wanted. Great they added this as a bonus song, because this should have been the version they should have released originally. The "I Got Stung" is a great fifties rocker, plain and simple.

Conclusion

Elvis celebrated his 70th birthday on top of the charts with "Jailhouse Rock"; perhaps he can be crowned again with this single, picking up the 1000th UK #1. The songs on this single are strong enough to compete with any "new" song.

For those who don't care too much about the charts, these detailed reproductions are real gems to collect on either CD-single, vinyl (or both ...).