A Fool Such As I (CD-single)
CD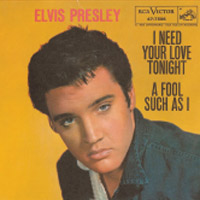 Released: 2005/01/17
by RCA
A detailed re-release with original USA cover art.
ElvisNews review
The third (not counting "All Shook Up") in a series of 18 single re-releases is "A Fool Such As I". Can Elvis continue his #1 chart run over 17 consecutive weeks from January 3 to April 25, starting with "All Shook Up" and ending with "A Little Less Conversation"? This single could be his third #1 in a row.

Design

This CD-single comes in the original US cover for the outer sleeve, the inner sleeve contains a copy of the original UK wrapper, a standard RCA sleeve. The vinyl edition only has the original UK sleeve, so no picture sleeve.

The back of the single shows an announcement for the "Elvis Sails" release, an early example that "anything Elvis" sells. The single also has the vinyl touch making it a real collector.

Content

This single contains the songs "A Fool Such As I" with "I Need Your Love Tonight" as the flipside and an alternate take of "A Fool Such As I" as the bonus track.

The "A" side is one of those songs that you can't get out of your head that easily. It is a happy tune, with a nice backing by the Jordanaires, you can't but help humming along. As with many of these songs, they are way to short, we'd like to continue humming some more.

The flip side, "I Need Your Love Tonight" is an up-tempo rocker, which just like Elvis current #1 "One Night", perfectly describing the goal many guys had in the fifties, "do some loving tonight". Today's youth probably still want the same, showing that this song is still "up-to-date" still want to). The alternate take of "A Fool Such As I" gets a more jazzy approach. The single happily "bounces around" while this take sound more relaxed with a nice baseline in the break.

This impressive run masks a more worrying statistic for the record business: "Jailhouse Rock" secured the top slot by selling only 21,262 copies, the lowest tally ever and a fraction of the figure needed to reach the summit in the recent past, and the same goes for "One Night". Usually the single sales are slow in January, but this can mask a more significant slump in business since 1999. Illegal downloading of music has sent physical singles sales into a tailspin since 1999. They were just 36.4 million in 2003, compared with 1999's 80.1 million, and declined by another 15 percent or so in 2004, industry figures show. Downloads overtook over-the-counter singles sales for the first time in the last week of 2004 according to a Reuters newsflash.

For the first time, the Top 40 chart to combine record sales with legal downloads this year in a bid to harness booming Internet interest, making the Top 40 singles chart the most reliable chart again. We will have to see how Elvis' singles do if this new way of registering all sales comes into effect, but until then, he can set some records for others to aim at.

Conclusion

Elvis celebrated his 70th birthday on top of the charts with "Jailhouse Rock", picked up the 1000th UK #1 one week later and will try for the 1001st. #1 spot too while he's at it.

For those who don't care too much about the charts, these detailed reproductions are real gems to collect on either CD-single, vinyl (or both …).