It's Now Or Never (CD-single)
CD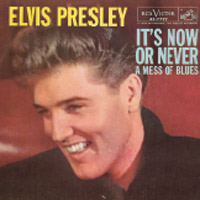 Released: 2005/01/24
by BMG
A detailed re-release with original USA cover art.
ElvisNews review
The fourth (not counting "All Shook Up") in a series of 18 single re-releases is "It's Now or Never". With this single Elvis can try to get his third #1 hit in 2005.

Design

This CD-single comes in the original US cover for the outer sleeve, the inner sleeve contains a copy of the original UK wrapper, a standard RCA sleeve. The vinyl edition only has the original UK sleeve, so no picture sleeve. With a cover like this that is a pity, what a great picture this is.

This week we also received the vinyl edition in time for a review. Great to play these re-releases the way they were originally released ... on vinyl. With regard to the cover, if only they used the US cover for the vinyl edition too.

Content

This single contains the songs "It's Now Or Never" with "A Mess of Blues" as the flipside and "Make Me Know It" as the bonus track, so no "alternate take" this time.

The A side song is a translation of an Italian classic. Although translated, the song still has that romantic Italian feel. The flip side shows a completely different side of Elvis. "A Mess Of Blues" is a good example of the wide range of material Elvis recorded. It is not as bluesy as "merry Christmas Baby" or 'When it Rains It Really Pours", but our man really delivers the sad lines Pomus and Shuman penned down.

The sequence of the songs isn't what we expected; the bonus song is featured before the original flip side. "Make me Know It" was recorded in 1960 (released first on "Elvis Is Back") but has that classic fifties theme of a guy really wanting that girl, but she's giving him a hard time. Although the theme still inspires many composers and performers, they way it is worked out sound nostalgic.

Conclusion

Last week Elvis didn't set a new record by topping his own #1 spot twice in a row, but he did set a record for the #1 dropping the most spots by dropping to #20. Hopefully he will make a positive result this week, adding another #1 to his #1 collection. SONY/BMG made sure more copies were available, so he wouldn't have to loose the #1 spot due to a shortage of singles.

For those who don't care too much about the charts, these detailed reproductions are real gems to collect on either CD-single, vinyl (or both …).