Double Trouble
CD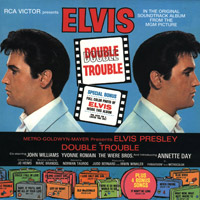 Released: 2004/10/01
by FTD
Special 7 inch FTD edition of the "Double Trouble" soundtrack.
ElvisNews review
The "Double Trouble" soundtrack has been released in the Follow That Dream 7 inch series. What Now, What Next, Where To?

Design

We assume you are familiar with the design standard of this series. The package contains a lot of background information on the movie, with publicity and informal pictures, and the recording details of the songs on this disc.

Content

This is the hard part of this review. The working title 'You're killing me" said it all for Elvis, and does so for us. We have watched the movie, we have played the soundtrack and that is it.

We know it is easy to put Elvis movies and soundtracks down, but with this movie Elvis hit an artistic low. The Colonel may have made a good deal money-wise, he sure didn't make a good deal publicity wise. He probably didn't care for that, nor did Elvis, allowing the Colonel to make these kinds of deals.

Hearing Elvis sing "Old Mac Donald" as a one-liner for fun on stage is one thing, but this rendition is… well, we haven't got words to describe it. Even Elvis declined in the band recording of this one.

"City By Night" has a touch of blues, but Elvis' uninspiring singing ruins it. The only song worth listening is the Roberson/ Blair song "What Now, What Next. Where To"... but that was a bonus song. And let's be fair, the other bonus songs of the original album are more or less okay too.

Conclusion

The question for this soundtrack could be "What Now, What Next, Where To"… the answer is simple. Run (like Mexican water through a first time tourist), pick any other soundtrack CD from your collection and head for your audio set, or you will be in trouble, double trouble.

We gladly add this release to our collection, collectors as we are, but we wonder if we will play it ever again. Fortunately Elvis recorded a lot of good material too, so there is plenty to choose from.
Tracklisting