Paradise, Hawaiian Style
CD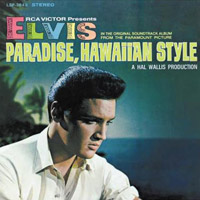 Released: 2004/07/01
by FTD
7" format cover, original back and front cover, 3 panel Gatefold sleeve and 8 page booklet with photos and memorabilia.
ElvisNews review
The Follow That Dream "original cover art" edition of the Paradise Hawaiian Style soundtrack.

Design

As with the previous releases in this 7" format the artwork is stunning. Nice pictures, memorabilia, and information in the booklet and the original cover art makes a complete package, already worth buying, no matter what the content is music wise.

Content

Well, that's about all positive we can say about this release. The movie was a cheap shot, trying to benefit of the success of "Blue Hawaii". Where that movie had at least some decent songs in it like the title track, "Rock-A-Hula Baby" and the classic "Can't Help Falling In Love", this attempt had to do with the immortals like "Queenie Wahine's Papaya", "Scratch My Back" and "A Dog's Life".
Anyway, we managed to sit through the whole CD, but it's no guess it will only be used as decoration in the future. Ten unreleased songs are probably interesting to the diehards that really want to have everything. The only positive we can say about the songs is that Elvis was laughing his heart out too because of the ridiculous material he was recording.

Conclusion

A real collector's item, and that's where the label is for.
Tracklisting