Frankie And Johnny
CD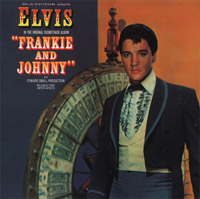 Released: 2003/11/10
by FTD
7" format cover, original back and front cover, 3 panel Gatefold sleeve and 8 page booklet with photos and memorabilia.
ElvisNews review
The second set of previously deleted soundtracks albums was re-released on the Follow That Dream label as part of the label's program to keep Elvis catalogue available for fans. The first one we review is "Frankie And Johnny", if only for one of the best lines in an Elvis lyric "You know they'll put your where the cold wind blows. From the hottest corner in hell".

Design

The format for these movie re-releases is exactly the same as the previous releases, so nothing new here, and again we compliment Ernst and his team on the beautiful job they did on this package. For those not familiar with the previous releases, this is what you get:

1) 7" format cover (like a single or EP)
2) Original back and front cover
3) 3 panel Gatefold sleeve
4) 8 page booklet with photos and memorabilia
5) Original album with original album EQ
6) Additionally all previously released outtakes (if space permits)
7) Additionally previously unreleased outtakes (if available and space permits)

Inside the booklet there is a small mistake though, there is a picture from "Tickle Me" on page two of the booklet.

Content

This CD contains the original soundtrack and fifteen bonus tracks; all out-takes from the soundtrack songs. This soundtrack perfectly matches the movie with that Dixieland sound, but between the Dixieland you also get a bluesy song like "Hard Luck" or a tender ballad like "Please Don't Stop Loving Me". We won't go into the fans appreciation for movie songs or Dixieland music, you can do that yourself. But since it is a special release for fans, do they get something interesting inside the beautiful package?

If you own the bootlegs "Original Film Music Vol. 4" or the first volume of the "Celluloid Rock" series you have all bonus tracks on this CD, so nothing new her in titles or out-takes. But the sound quality of this release make it worth buying it. One exception is the movie version of the title song, with 7 minutes and one second one of the longest Elvis songs, on this release is almost one minute longer than the one previously available on the "Original Film Music" CD. This version is an interesting mix between Dixieland and blues telling the story of Frankie and Johnny, one of the highlights of this album.

Conclusion

We can be short in our conclusion of this release, it is the same one as on the previous FTD soundtracks. The FTD label did a great job on this re-release. This is the kind of release that even makes soundtrack recordings interesting. Hopefully we'll get all of Elvis movie soundtracks in this format.
Tracklisting