Harum Scarum
CD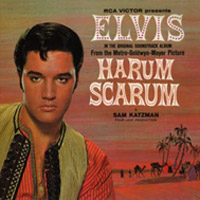 Released: 2003/11/10
by FTD
7" format cover, original back and front cover, 3 panel Gatefold sleeve and 8 page booklet with photos and memorabilia.
ElvisNews review
The second set of previously deleted soundtracks albums was re-released on the Follow That Dream label as part of the label's program to keep Elvis catalogue available for fans. Last and least of this bunch is "Harum Scarum".

Design

The format for these movie re-releases is exactly the same as the previous releases, so nothing new here, and again we compliment Ernst and his team on the beautiful job they did on this package. For those not familiar with the previous releases, this is what you get:

1) 7" format cover (like a single or EP)
2) Original back and front cover
3) 3 panel Gatefold sleeve
4) 8 page booklet with photos and memorabilia
5) Original album with original album EQ
6) Additionally all previously released outtakes (if space permits)
7) Additionally previously unreleased outtakes (if available and space permits)

Content

What can we say? The soundtrack of this movie is as listenable as the movie is watchable. It is a neck to neck race for the worst (Elvis) movie with "Easy Come, Easy Go." But at least the latter has some decent (song) performances in it. Even "Kismet" and "So Close, Yet So Far", that could have been a beautiful ballad, sound boring. The fact that this soundtrack was recorded in Studio B instead of Hollywood could not bring it to a higher level. The only purpose of this soundtrack we can think of is as an opiate.

Conclusion

To us this is nothing more than a cabinet filler. It is a shame The Colonel "made" Elvis ever recording it. Hopefully this is the definitive "Harum Scarum" release we bought.
Tracklisting