Viva Las Vegas
CD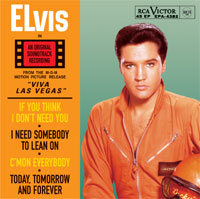 Released: 2003/11/10
by FTD
7" format cover, original back and front cover, 3 panel Gatefold sleeve and 8 page booklet with photos and memorabilia.
ElvisNews review
The second set of previously deleted soundtracks albums was re-released on the Follow That Dream label as part of the label's program to keep Elvis catalogue available for fans. The second one we review is "Viva Las Vegas", if only to postpone listening to "Harum Scarum".

Design

The format for these movie re-releases is exactly the same as the previous releases, so nothing new here, and again we compliment Ernst and his team on the beautiful job they did on this package. For those not familiar with the previous releases, this is what you get:

1) 7" format cover (like a single or EP)
2) Original back and front cover
3) 3 panel Gatefold sleeve
4) 8 page booklet with photos and memorabilia
5) Original album with original album EQ
6) Additionally all previously released outtakes (if space permits)
7) Additionally previously unreleased outtakes (if available and space permits)

Content

Probably Viva Las Vegas is the last decent soundtrack of an Elvis movie. Strangely enough it was only released as an EP in 1964. But fortunately that leaves more space for bonus tracks on this re-release. Maybe we overrate it a bit now, since the obvious fireworks between Elvis and Ann-Margret made the movie, and thus the fans's appriciation for the soundtrack, higher.
Still this soundtrack has some real gems with of course the title track, the swinging "C'mon Everybody" and beautiful ballads like "I Need Somebody To Lean On" and "Today, Tomorrow And Forever". The duets are worth listening too, and it is still amazing that none of them were released during Elvis' life.

On the FECC Elvis-messageboard there was some discussion about the take numbers of some of the songs. It looks like the duet and the solo version of "Today, Tomorrow And Forever" are recorded in a row, without re-starting the numbering for the solo version. So Take 3 of the solo version is actually the first take. An extra on this soundtrack release is "The Climb" by The Forte Four, which wasn't released at all until now. The cover only mentions take 9 for it, but there are two takes extra included.

Conclusion

To us this is the only enjoyable soundtrack music wise of the three that were just released. It is not outstanding, but listenable from beginning to end, something that can't be said of all soundtracks. A good addition to the FTD-pile.
Tracklisting