Fun In Acapulco
CD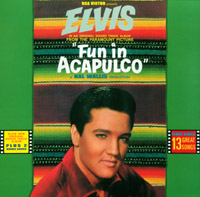 Released: 2003/04/15
by FTD
7" format cover, original back and front cover, 3 panel Gatefold sleeve and 8 page booklet with photos and memorabilia.
ElvisNews review
We had a good weekend, managed to buy the almost complete "Elvis – Original Complete Film Music" from the AJ Records label and received the first three soundtrack re-releases on the Follow That Dream label. Listening to both it clearly shows there are "soundtracks" and "soundtracks".

Design

What makes these soundtrack re-releases special, next to the bonus tracks, is the design of the package. Or as the FTD-label put it in their press release: As a direct consequence of BMG's current streamlining of the world wide Elvis catalogue, a fair portion of Elvis' original music becomes unavailable. It's been agreed that Follow That Dream will re-release these masters in order that they will always be available to "real fans". To make this attractive FTD is re-releasing the original albums along the following lines:

1) 7" format cover (like a single or EP)
2) Original back and front cover
3) 3 panel Gatefold sleeve
4) 8 page booklet with photos and memorabilia
5) Original album with original album EQ
6) Additionally all previously released outtakes (if space permits)
7) Additionally previously unreleased outtakes (if available and space permits)

On this CD we finally saw what this means. A great package in the line above with an "original" design and interesting booklet containing information and shots from the movie, together with information about the soundtrack recordings and releases containing the various other out-takes. The last has always been a point of criticism on the FTD releases by fans missing more detailed information on this fan-label.

Browsing through the booklet of the afore mentioned bootleg "Original Film Music" CD we miss everything we just mentioned, wonder why we bought it ...

Content

This CD contains the original soundtrack and fourteen bonus tracks; all out-takes from the soundtrack songs. What can we say about the actual songs? They are movie songs, and not part of Elvis best work, but a huge part of Elvis musical heritage. You either like these kinds of songs (made for use in a movie and not all for listening only) or not.

On the "Fun In Acapulco" soundtrack some good songs are featured; besides the title track "I Think I'm Gonna Like It Here", "Bossa Nova Baby", "You Can't Say No In Acapulco" and "Slowly But Surely" always were our favorite tracks.

Fortunately we get a few out-takes from the songs above, next to out-takes from the signature Mexican songs "Mexico" and "Guadalajara".

Listening to the bootleg "Original Film Music" soundtrack the producers took "soundtrack" literary, and lifted the soundtrack songs directly from the movie. This gives us some other versions ("Mexico" in a duet with Larry Domasin), but not in the good quality Ernst Jorgensen and Roger Semon present us the songs on this set.

We would have liked to get the out-takes of one song in the proper order. The choice not to put all takes of the same song in a row is good for listening pleasure, but we prefer a chronological order. Take the song "Mexico" again, we start with take 7, then takes 1 and 2 and finally take 6.

Conclusion

We can be short in our conclusion of this release. The FTD label did a great job on this re-release. This is the kind of release that even makes soundtrack recordings interesting. Hopefully we'll get all of Elvis movie soundtracks in this format. Looking forward to this Christmas, three new soundtracks are expected to be released then. This is depending on how well these first three do, so in the words of Milton Berle "keep buying them records!".
Tracklisting