Lights Out
CD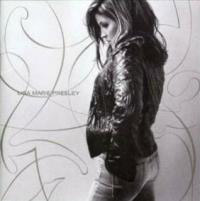 Released: 2003/03/24
by Capitol
Lisa Marie Presley's debut album.
ElvisNews review
Thanks to Rick Everett from The Q.fm, who was so friendly to send us an MP3 of Lisa Marie's song 'Lights Out'. This allowed us to do a short review of what to expect. Since we also have the cover of the single we can actually make this a complete review in our usual format.

Design

Looking at he image on the cover we can surely tell where this girl got her looks. The cover has a 'feminine country' feel, with a nice black and white picture of Lisa in jeans and leather.

Content

From the four songs on the Lisa's first single we can only review the title track 'Lights out'. The other tracks are: 'SOB', 'The Road Between' and 'Nobody Noticed It'.

The title song is the lead single for Lisa's coming debut album, "To Whom It May Concern" and Lisa wrote the lyrics and co-wrote the music. The subject matters on her debut album varies from self-analysis ("S.O.B.") to a protest of the casual use of prescription drugs for children in the title track.

The song 'Lights Out' is a mixture between country rock and pop, besides Lisa's vocals, the guitars determine the sound of the song.

We won't go into comparing Lisa's song to that one guy most of us listen to frequently, it is hard enough for her to follow in the footsteps of her father's career. Listening to this song names like Wyonna Judd, Shania Twain but mostly Cher pop to mind. The voice, a bit low and 'raw' and the reference to Memphis brings Cher's version of 'Walking In Memphis' to mind. Her voice needs to grow a bit and gain a little more volume, but on one song we can not judge her. We'll do that after listening to more tracks on the single and the complete album.

And what has Lisa to say about her album? "This is me," Presley said in a statement. "This record is me. Every song is me. You're going to see who I really am and not what the tabloids say or whatever anyone has to say about me." (LA Times)

Conclusion

Like we wrote, we won't judge her on one song. With this kind of music Lisa will probably do well on the U.S. Country and hopefully Pop charts. This is not the kind of music which is very popular with a wide audience outside the U.S. when talking in sales. But we guess the curious Elvis fans will give her a good start, hopefully for Lisa the world will judge her on her own merits and like it.