Burning Love
CD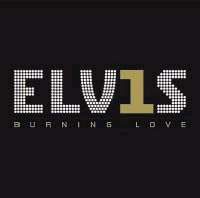 Released: 2002/09/14
by BMG
The second single from the "Elvis 1's" collection is a re-release and remix of one of his last American hits from 1972. Includes the original version as well as a rare, previously unreleased outtake.
ElvisNews review
The song BMG is using to promote Elv1s: The 30 #1 Hits is 'Burning Love'. They have released several promos across the world and also a commercial single. It could seem that there isn't too much to be said about it, but let's try to review it.

Design

There are a couple of editions of this CD. But all have the same design. The front cover is black with the new ELV1S logo in white and golden and under it you can read Burning Love in a very modern golden font.

The back cover is gold and has the slogan of E1, 'Before anyone did anything, Elvis did everything', which I think sounds very attractive, and must be as seen in the charts. Also there is an advertisement of E1, and the websites of EPE, E1 and RCA Records.

Content

As they did with ALLC single, there are two tracklistings. You can find in all of them the new master of Burning Love and the old one. You really don't need to listen to the second track to see the improvements they have made to the song. The instruments sound so clear and the drums really rock! When you listen to the old version you feel you really have to buy E1 album, and so I think the usual buyer will feel.

In the three tracks version, RCA has added the second take of Burning Love, already released on FTD's 6363 Sunset. It isn't quite different from the master, but it is interesting to have, although the I-must-have-it-all will already have listened to it.

Conclusion

This single looks more like a collector's oriented CD than a usual commercial single, as it is demonstrated by the charts positions. Anyway, it's a nice addition to your collection if you already have ALLC single and E1 album. It's nice to have the album and both singles.
Tracklisting