If Every Day Was Like Christmas
CD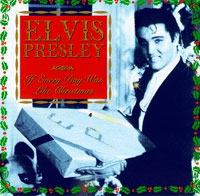 Released: 1994/10
by BMG
The best Christmas collection available.
ElvisNews review
One of the finest Christmas CD's ever released. It contains 24 jewels for the last month of the year, and suitable for every music lover. No need to say Elvis' fans will enjoy this one too. Since I always start early with my Christmas presents, I came across this release and saw to my big surprise that there wasn't a review yet.

Design

There are 2 versions available. The normal release in a jewel case and the other a special collector's edition:
A full-colour 12x12 "Winter at Graceland" pop-up, with the CD packaged inside. Both releases contain 24 classic Christmas songs, including 2 unreleased alternate takes and 2 rare alternate takes. Overall we can say it is very tasteful and for the true fan a nice decoration piece to put on the Christmas table.

Content

Some songs were recorded in 1957, one in 1966 and all others in 1971, except the last message from Elvis; that was 1957 again. Let's light some candles and listen to these beauties.
The CD opens with "If Every Day Was Like Christmas", written by Red West. Elvis' voice sounds warm and the Imperials and the Jordanaires are providing the backing vocals. This is the only recording from 1966 on this release. Back to mono recordings of 1957 with "Blue Christmas" with the Jordanaires. In time this song became a real classic. The tempo increases with "Here Come Santa Claus", a very cheerful song and it wouldn't surprise me you get the urge to dance around your Christmas tree. A lot more serious but no less beautiful is "White Christmas", who doesn't remember the beautiful Christmas movie with Bing Crosby? I would love to have seen Elvis in that movie. Elvis really made this version his own with a very nice arrangement. Enough rested, come on and dance with me on "Santa Bring My Baby Back To Me". I sure will buy some mistletoe this year. Oh, how I love this tune! Time to cuddle up on your couch with your love-one and listen to "I'll Be Home For Christmas". The Jordanaires are perfect here.

Every Christmas CD needs a real serious church song and Elvis' version of "O Little Town Of Bethlehem" almost make me want to go to the church with Christmas this year. A real bluesy song is next; "Santa Claus Is Back In Town". Here is the proof "the blues" is right for every time of the year. We make a big move in time and we can hear that too. Elvis sounds more mature and the year is 1971. The Imperials replace the Jordanaires and "It Won't Seem Like Christmas" without them. Ah, my personal favourite: "If I Get Home On Christmas Day". I can't help it, tears are running down and it's not even Christmas yet. Listen to this beautiful tune, which goes to a climax towards the end. Elvis really touches my soul on this one. Again a Red West song on this release: "Holly Leaves And Christmas Trees", a very nice and warm ballad, complete with Christmas "bells" in the orchestra.

With "Merry Christmas Baby" we are treated on a real blues song again. Although I am a very big fan of Floyd Cramer, I must admit that David Briggs is doing a very good job here. It's like the piano is "singing" the second voice here and Elvis is enjoying himself. He sure treats us nice.
Time for a classic song again and "Silver Bells" belongs on every Christmas of course. Time for an alternate take: "I'll Be Home On Christmas Day". It's so nice to compare those 2 versions on this release. The early one from 1957 and this one from 1971, with the Imperials this time. More percussion on this take and Elvis really sings with his heart here. Real change of tempo and atmosphere with the next song, "On A Snowy Christmas Night". Time for new candles I should say. I hope you are back in time for a little dance on "Winter Wonderland". A real "children" song, at least mine were crazy about this one a long time ago.

With "The Wonderful World Of Christmas" one really hears Elvis' own feelings about this time of the year. Of course Graceland was a wonderful home to be around Christmas. A really stunning version of "O Come All Ye Faithful" reaches my ears. In my opinion this version should have gotten an award! Especially the backing vocals deserve some extra respect here. No church choir would be able to do a better job here. An almost delicate Elvis goes on with "The First Noel", a very sincere and tender song, but a bit too classic for my taste.

Time for another alternate take of "It Won't Seem Like Christmas", followed by take 1 of "Silver Bells". One version would have been enough, but for the real collectors nice to have of course. Just like the following take 8 of ""Holly Leaves And Christmas Trees". Comparing time again, the master version of "I'll Be Home On Christmas Day". The tempo of the alternate version is a little faster and "swings" a bit more. Personally I like the alternate take better.
How could this CD better be ended than with a "Christmas Message From Elvis" himself followed by "Silent Night". One can only hope that all our feelings around Christmas would last a whole year.

Conclusion

Christmas was Elvis' favourite time of the year, and you can hear Elvis enjoyment in these songs. This release is the perfect present for every music lover. No need to be an Elvis fan; this is just a wonderful Christmas CD, suitable for everyone.

Playing Time: 63:28 min.

Tracklisting
Rating: 4 / 5
Rating: 5 / 5
Rating: 5 / 5
Rating: 5 / 5