Elvis Sings The Wonderful World Of Christmas
CD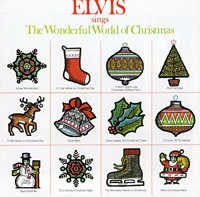 Released: 1971/10
by BMG
Elvis' very successful second Christmas album.

ElvisNews review
Elvis Presley released his second Christmas album on October 20, 1971. Elvis Sings The Wonderful World Of Christmas was an album that sold well over a long period of time and would eventually pass 3 million copies sold. While it topped the Billboard holiday charts; from 1963-1973 Christmas albums were not allowed on the pop charts. It is safe to say that this release by Elvis would easily have reached the Top Five.

Elvis Sings The Wonderful World Of Christmas may not have been as consistently strong as his classic 1957 Christmas release; nevertheless it still stands on its own as an excellent album. It also continued the high quality of Elvis' gospel and holiday album releases.

Four songs form the album form the heart of the listening experience. The wonderful ballad, "Holly Leaves and Christmas Trees," features Elvis' rich voice on a song that evokes holiday memories. "Merry Christmas Baby" is given a unique treatment as Elvis takes this secular classic in a blues direction. Elvis puts his soul into the performance and strains, in a good way, to express his passion through the song's lyrics. "If I Get Home On Christmas Day" is another fine rendition by Elvis. His tone and deep baritone are just right for one of his better 1970's performances. "On A Snowy Christmas Night" can be considered a romantic Christmas song. Elvis sings two traditional Christmas carols on the album. "The First Noel" is the more successful of the two as Elvis slows the song down a bit to allow the cadence to fit his voice at its best. "O Come, All Ye Faithful" is an inspirational song better suited to multiple voices and while Elvis acquits himself well; his voice seems lost at times. I would have loved to have heard Elvis' voice overdubbed several dozen times to create a choir sound.

Some other representative performances include Elvis' perky renditions of "Winter Wonderland" and "Silver Bells" plus a nice sincere vocal on "I'll Be Home For Christmas."

Elvis Sings The Wonderful World Of Christmas finds Elvis in fine form and the songs from the album were a fine addition to the Elvis legacy. Today all his holiday songs have been combined onto one CD release and are well worth seeking out.
Tracklisting
Rating: 5 / 5
Rating: 2 / 5
Rating: 5 / 5