Welcome To My World
CD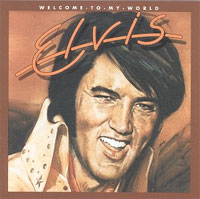 Released: 1977/03
by BMG
ElvisNews review
Every now and then I go through my collection to enjoy old releases. Some of them are true jewels. The ones you take with you on holiday, or to some desert island. Welcome To My World is such a CD. Digitally remastered in 1992 and a favourite of many.



Design


The picture on the front is a drawing and a nice one too! The booklet gives us only information about Elvis' life and career and not much about the contents of the CD. The songs all recorded between 1969 and 1973, with one exception: Your Cheatin' Heart from 1958.


Content


Let's see why this is such a nice release … It starts with the title song: "Welcome To My World" a beautiful live version from the Aloha Concert in 1973. Personally really one of my favourites. Sung with an intensity that strikes me every time I listen to it. Elvis proofs here again to be a magician with emotions and feelings.


"Help Me Make It Through The Night" , a Kris Kristofferson song, recorded by Elvis in 1971.

Listening to his voice here, leaves no doubt what so ever that he means every word. I don't wanna be alone……makes you wonder how lonely Elvis truly was.


With "Release Me", arranged by Glen D. Hardin the tempo goes up a little. Great song with a lot of possibilities for Elvis' voice. The Imperials do their best on this one too. The song "I Really Don't Want To Know" follows; what a feeling lies here in his voice. The year is 1970 and even the special sound from his throat can be heard here. Again a Kris Kristofferson on this CD: "For The Good Times". A kind of easy listening song, while sung by others, but a true ballad out of Elvis' mouth. Sung with his heart and soul.


Again 1970 ..."Make The World Go Away", very well known, but guilty of shivering every time I hear this song. Listen carefully to the lyrics, beautiful! Back to 1969 with "Gently On My Mind". The warmth of his voice is breathtaking. The second Aloha song: "I'm So Lonesome I Could Cry" ... the way he moves from one word to another is so beautiful, I could cry! And how strong the Stamps sounds on this one. The harmony between the voices goes beyond words.


Strangely we move to 1958 with the Hank Williams song: "Your Cheatin' Heart". Personally I like this song, but it's a little out of place on this album. The theme of the song perfectly fits in, but it's another Elvis we hear. Elvis still sounds very young and sexy, but already his voice is great!


Back to the 70's with a live version of "I Can't Stop Loving You"……could there be a better song to end this release? Those happy moments we once knew…….what a power in his voice……I love it!


Conclusion:


There is only one thing I don't like about this CD: it's too short! Make sure you have have it in your collection. And for those who have it in their collection … listen to it again: it's one of the best!



Tracklisting