Café Europa - G.I. BLues Vol. 2
CD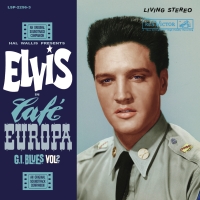 Released: 2013/10/14
by FTD
2 CD set with more outtakes from these sessions.
ElvisNews review
FTD's vinyl version of Now has seen the light of day. I was pretty positive about the FTD CD version of the album, how about this version?
The weirdest thing about this LP-set is not leaving out Hey Jude, but the addition of For Lovin' Me and Love Me, Love The Life I Lead (takes 5,6) . Those two songs weren't on the CD and appear on this set.
The weird compilation that the original was echoes in this version because the different sessions obviously sound pretty different on vinyl (or were hard to master the same way). Where Sylvia and For Lovin' Me are mindblowing on vinyl, the other songs do not benefit that much of this superior medium.
All together the album might not be Elvis' strongest material, but I did enjoy listening to it and it will find my turntable more often for sure!
Tracklisting
The remixed/remastered song masters sound better than ever!
I purchased Volume 2 and although acceptable it really is a mixture of good and mediocre. "What's She Really Like" and "Shoppin' Around" are my favorite tunes plus the title song "G.I. Blues". "Didja Ever", "Big Boots" although fine in the movie, don't quite cut it as a listening experience. Boring! "Blue Suede Shoes" in this movie is an aberration!!! The worst version. The original version of "Blue Suede Shoes" released in 1956 and what was to be in the 1970's was way, way superior to this crap. 3-star FTD issue.
Rating: 3 / 5