Elvis Sings The Wonderful World Of Christmas
CD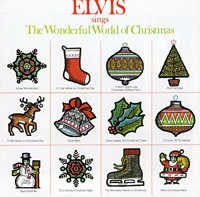 Released: 2011/12
by FTD
7" 2CD release in classic albums series.
ElvisNews review
FTD has a nice timing with releasing the classic version of Elvis second Christmas album.
Design
The design is good as usual with this series. The booklet has the album cover with the picture of Trouble With Girls and has more results of this photo shoot and also some more of Elvis in action in the fringe suit. Of course the session info and some background is there too, decorated with all kinds of memorabilia.
Content
The first CD contains, as usual, the original album and as bonus the master of the remake of I'll Be Home On Christmas Day. The disc is completed with 6 first takes. With most sessions Elvis knew exactly what he wanted and this one is no exception. Next to messing up lyrics some slight tempo changes are the most noticeable differences with the masters. Some banter and joking are a nice extra. Unfortunately one of the reels was reused, and that one contained the early takes of Winter Wonderland, a song that seems to have brought fun in the studio…
All together we get a fair amount of new outtakes, but as said, it is not all that was recorded but all that could be found. The result is that the second CD contains mainly takes from I'll Be Home On Christmas Day and If I Get Home On Christmas Day. The highlight of the set is to me the full version of Merry Christmas Baby, about the only Christmas song I really like – but that is just my Christmas trauma. It's not the first disc I have it on, but without a doubt in the best sound quality.
Conclusion
Releasing this CD now seems a good move to me, keeping the popularity of (Elvis') Christmas song in mind.
Tracklisting
Didnt enjoy this release much.....but thats not the FTD label to blame,never liked the original album as it only had 1 good track....merry christmas baby.
Rating: 5 / 5
Compared to the 1957 and there after-re-release of Elvis' first Christmas LP, this second collection in 1971 is inferior in more watts than one. Boring is the word that comes to mind.
Rating: 1 / 5