G.I. Blues - The Cafe Europa Sessions
CD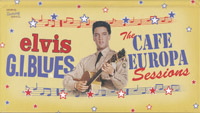 Released: 2011/03/21
by MRS
Public domain release in Europe, containing most of the G.I. Blues sessions. Brought with a great 100 page book.
ElvisNews review
Recently MRS released G.I. Blues The Café Europa Sessions. This is possible since the recordings are in the public domain due to European copyright laws. Is it the definitive G.I. Blues collection?
Design
About the design I could be very short: stunning! The 4CDs, all with either a red or blue border are attached to the front and back of the 100 page book. The first two discs carry promo shots for the movie, the other two pictures of the recording sessions.
The book, which is on the same format as the BMG boxes like Platinum and Close Up. It contains tons of pictures, from both the movie and the sessions. Many of them I never saw before. There are textual contributions by Ray Walker of The Jordanaires and Sid Tepper (forward, an unfortunate print error). The text gives many background details on the movie and sessions. Of course there is a complete overview of the sessions and the tracklisting of the the CDs.
The book also has sections with memorabilia, movie posters, lobby cards and record sleeves.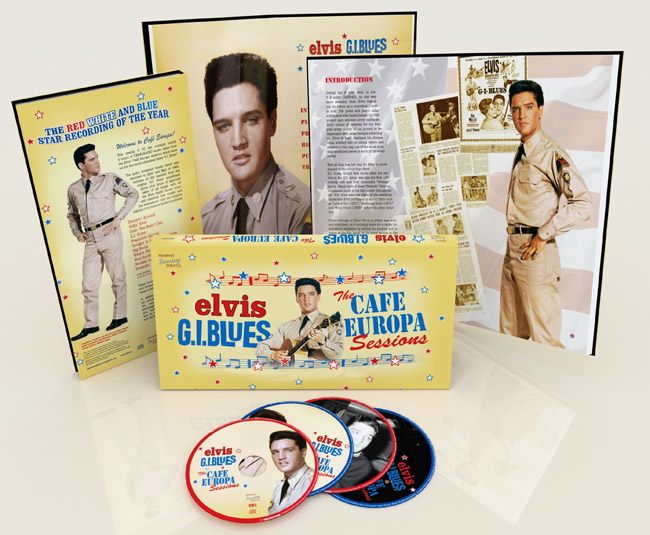 Content
The set brings the masters and most of the outtakes in perfect sound quality, although sometimes it sounds a bit high in my ears. I said most of the outtakes, since the outtakes that were released by RCA/ BMG/ Sony in later years are omitted, probably due to the before mentioned European copyright laws.
I found myself bored by these – sometimes very repeating – "complete" sessions the last couple of years. Maybe because I am less fanatic than I was 20 years ago, or just because I'm spoilt by now. For some reason I found It easy to sit through these 4 CDs. Of course the material isn't the strongest, but in general I think it is the last decent soundtrack. I always liked the title track and Shoppin' Around very much. Blue Suede Shoes isn't as strong as 4 years earlier, but still a very good rocker. Didja' Ever and Frankfort Special are fun and I think Doin' The Best I Can and Pocketful Of Rainbows are quite beautiful songs and the remaining is at least acceptatble, maybe beside the huge hit Wooden Heart, which I really dislike, maybe because it seems to turn up on every collection and I just heard it too much over the years.
The behind the scenes look during these sessions are funny. Elvis is still practising his German every now and then (Achtung!) and it is really amazing how polite he is to the people in the boot.
Conclusion
Regarding package it is the definitive G.I. Blues release, Sony/ FTD will never be able to beat it. Unfortunately it is not complete and we are missing several takes on this set. Still the remaining 4+ hours gave me a lot of pleasure.

Tracklisting
CD 1 (67:16)
Master Recordings
1. Shoppin´ Around
2. Didja´ Ever
3. Doin´ The Best I Can
4. G.I. Blues
5. Frankfort Special
6. Tonight Is So Right For Love
7. Big Boots
8. What´s She Really Like
9. Blue Suede Shoes
10. Wooden Heart
11. Pocketful Of Rainbows)
Studio Outakes
12. Shoppin´ Around (Instrumental Takes 1,2)
13. Shoppin´ Around (Instrumental Take 4)
14. Shoppin´ Around (Version 1, Takes 2,4,6 - 9)
15. Shoppin´ Around (Version 1, Take 10)
16. Shoppin´ Around (Version 1, Take 11)
17. Doin´ The Best I Can (Takes 1,2,4,5 - 8)
18. Doin´ The Best I Can (Take 13))
19. G.I. Blues (Takes 2,3,4)
20. G.I. Blues (Take 7)
21. G.I. Blues (Takes 8 -10 Pickup)
22. Tonight Is So Right For Love (Take 4)
23. Tonight Is So Right For Love (Takes 5,6)
24. Tonight Is So Right For Love (Take 7)
CD 2 (73:51)
1. What´s She Really Like (Takes 1 - 4)
2. What´s She Really Like (Take 5)
3. Frankfort Special (Takes 1,3 - 7)
4. Frankfort Special (Take 8)
5. Frankfort Special (Takes 9 -12)
6. Frankfort Special (Take 13)
7. Tonight Is So Right For Love (Take 8)
8. Tonight Is So Right For Love (Take 9)
9. Tonight Is So Right For Love (Take 10)
10. Tonight Is So Right For Love (Take 11)
11. Whistling Blues (Take 1)
12. Tonight Is So Right For Love (Music & Chorus) (Takes 1 - 3)
13. Tonight Is So Right For Love (Music & Chorus) (Take 4)
14. Big Boots (Fast Version) (Take 2)
15. Big Boots (Fast Version) (Take 3)
16. Big Boots (Fast Version) (Take 4)
17. Big Boots (Fast Version) (Take 5)
18. Big Boots (Fast Version) (Take 6,7)
19. Big Boots (Slow 1st Version) (Take 1)
20. Big Boots (Slow 1st Version) (Take 20)
21. Big Boots (Slow 1st Version) (Take 4)
22. What´s She Really Like (Takes 6 -10)
23. What´s She R eally Like (Take 11)
24. What´s She Really Like (Takes 12,13)
25. What´s She Really Like (Takes 14 – 16)
26. What's She Really Like (Different Key&Beat) (Take 17-18)
27. What's She Really Like (Different Key&Beat) (Take 19)
CD 3 (63:44)
1. What's She Really Like (Different Key&Beat) (Insert) (Take 20)
2. What's She Really Like (Different Key&Beat) (Insert) (Take 21)
3. What's She Really Like (Different Key&Beat) (Insert) (Take 22)
4. Pocketful Of Rainbows (Take 1)
5. Blue Suede Shoes (Take 1)
6. Wooden Heart (Take 4)
7. Pocketful Of Rainbows (Take 3)
8. Pocketful Of Rainbows (Takes 4 - 6)
9. Pocketful Of Rainbows (Take 7)
10. Pocketful Of Rainbows (Take 8)
11. Pocketful Of Rainbows (Take 9)
12. Pocketful Of Rainbows (Take 10)
13. Pocketful Of Rainbows (Takes 11,12)
14. Pocketful Of Rainbows (Takes 13,14)
15. Pocketful Of Rainbows (Take 17)
16. Pocketful Of Rainbows (Takes 18,19)
17. Pocketful Of Rainbows (Take 20)
18. Pocketful Of Rainbows (Takes 1,23,24)
19. Pocketful Of Rainbows (Takes 25,26)
20. Pocketful Of Rainbows (Take 28)
21. Big Boots (Mid Tempo) (Take 2)
22. Shoppin´ Around (Version 2) (Takes 1 - 3,6)
23. Shoppin´ Around (Version 2) (Take 7)
24. Pocketful Of Rainbows (Take 1)
25. Pocketful Of Rainbows (Take 2)
CD 4 (45:05)
01.Frankfort Special (Medium tempo) (Takes 1 - 3,6,7)
02.Frankfort Special (Medium tempo) (Take 8)
03.Frankfort Special (Medium tempo) (Take 9)
04.Frankfort Special (Medium tempo) (Take 10)
05.Tonight´s All Right for Love (Take 1
06.Tonight´s All Right for Love (Take 5a)
07.Tonight´s All Right for Love (Take 5b)
08.Tonight´s All Right for Love (Take 6)
09.Tonight´s All Right for Love (Take 8)
10.Tonight's All Right for Love (Take 9)
11.Tonight's All Right for Love (Takes 10, 11)
12.Tonight's All Right for Love (Takes 12, 16)
13.Tonight's All Right for Love (Insert) (Takes 1, 2)
14.Big Boots (Slow 2nd Version) (Takes 1 - 5)
15.Big Boots (Slow 2nd Version) (Take 6)
16.Big Boots (Slow 2nd Version/Insert) (Takes 1 - 4)
17.Tonight's All Right for Love (Instrumental) (Takes 1 - 3)
18.Tonight's All Right for Love (Instrumental) (Take 4)
19.Tonight's All Right for Love (Instrumental) (Take 5)
Bonus
20.Radio Spot 1 (UK)
21.Radio Spot 2(UK)
22.Radio Spot 3 (UK)
23.Radio Spot 4 (UK)
24.Radio Spot 1 (Australia)
25.Radio Spot 2 (Australia)
26.Movie Trailer Soundtrack 1
27.Movie Trailer Soundtrack 2