How Great Thou Art
CD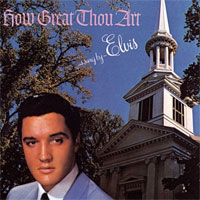 Released: 2010/06
by FTD
2CD set in FTD's classic album series.
ElvisNews review
A couple of weeks ago FTD released How Great Thou Art, Elvis' second gospel album in their classic album series.
Design
As usual with this series, the artwork is fine. Nice replicas of the cover and labels are completed with additional pictures and a booklet. The booklet contains the session information, memorabilia and some promo shots of the man.
Content
As I said in the past this is my least favourite of Elvis' gospel albums. To me it is in general a bit too heavy, maybe too religious. I know that is a strange expression when talking about gospels, but for a non-believer the lyrics are not important. This album lacks the freshness and joy of His Hand In Mine, nor has it the rocking feel of He Touched Me. Even the up-tempo songs, maybe with an exception for If The Lord Wasn't Walking By My Side, do not sound like Elvis was having fun, while those on His Hand In Mine scream "WE ARE HAVING FUN!"
Of course this personal opinion of mine doesn't make it a bad album. I do recognize the quality of the recordings too, but except the title track, Where Could I Go But To The Lord, the before mentioned If The Lord, So High, Crying In The Chapel and the three bonus tracks I do not really enjoy it that much. I have to admit that the first time I played this version I was surprised it didn't feel as gloomy as it usually does to me. Maybe that was because the Dutch team just lost the final during the world cup.
On the second CD the workparts of Where No One Stands Alone started to irritate me after a while, it's too much of the same in a row for me.
One last remark: the sound is perfect; crystal clear and it almost sounds as if the recordings were made in my living room.
Conclusion
Everybody knows what to expect from these recordings and how they feel about it.

Tracklisting
Rating: 5 / 5
Rating: 5 / 5
Rating: 5 / 5
Rating: 5 / 5