Fun In Acapulco
CD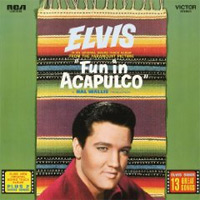 Released: 2010/01/26
by Sony special product
Re-release of original soundtrack.
Tracklisting
Wow! January 26, 2010 is when we get re-released soundtracks for the millionith time. First they rob us on the FTD label with exorbitant prices and now this at probably super reduced prices I bet. Ugh.
Rating: 2 / 5
Robbed? No one is holding a gun to your head. Mastering by Vic Anisini. Next to Blue Hawaii this is my fave '60s soundtrack.
Rating: 4 / 5
This soundtrack featured some treasures and clunkers for sure ! The title tune, "Fun in Acapulco" along with "Bossa Nova baby", and the bonus tracks,"Love Me Tonight" and "Slowly but surely" make this CD, worth buying again in remastered sound.
Rating: 3 / 5