Elvis Sings Hits From His Movies
CD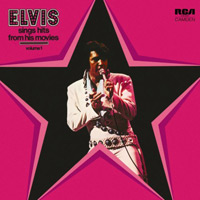 Released: 2008/11/17
by Sony Special Products
Re-issue of the 1972 Camden budget release.
ElvisNews review
Sony re-issued two more Camden volumes on their Special Budget label; "I Got Lucky" and "Elvis Sings Hits From His Movies". Did I get lucky tracking down a copy?
Design
The artwork is faithfully reproduced; the only thing missing on these re-issues is the original back cover artwork featuring advertisements for other Presley albums. The originals didn't have the big FBI anti-piracy stamp either :-)
Content
The content of these discs is kind of a mixed bag but for many fans these releases bring back memories of that magical period of discovering Elvis through these cheap releases. You can say they were crap back then and are crap now, but they served a purpose. They put the cheap re-issues we have in Europe in another perspective; what if these Camden releases had contained Elvis' classic fifties material to discover his music?
No compilation ever should contain "Old MacDonald" but the addition of "Guitar Man". "Big Boss Man" to the "Elvis Sings Hits From his Movies" disc was worth the handful of dollars back in those days for a lot of fans. The same goes for the coupling of the red hot chart hit single "Burning Love" with "Guadalhara" and "I Love Only One Girl". I always had a soft spot for "Confidence" as it was part of the first Elvis tape I got and don't we all - well at least the men - like "Long Legged Girls "(With Short Dresses On)?

These two aren't the best Camden titles; but for the real collector it contains two little collectables according to postings on the FECC forum. "I Got Lucky" contains the original edits of the title track while "Home Is Where The Heart Is" is released in stereo for the first time on CD.
Conclusion
The Camden LPs are what they are - take them or leave them; in their day they served a purpose. Many fans still have a soft spot for these albums and they are part of the original catalogue, released during Elvis' life-time. Collecting those I call myself "lucky" I got them :-)
Tracklisting
Original tracklisting "I Got Lucky":
I Got Lucky
What A Wonderful Life
I Need Somebody To Lean On
Yoga As Yoga Does
Riding The Rainbow
Fools Fall In Love
The Love Machine
Home Is Where The Heart Is
You Gotta Stop
If You Think I Don't Need You
Original tracklisting "Elvis Sings Hits From His Movies":
Down By The Riverside And When The Saints Go Marching In
They Remind Me Too Much Of You
Confidence
Frankie And Johnny
Guitar Man
Long Legged Girl (With The Short Dress On)
You Don't Know Me
How Would You Like To Be
Big Boss Man
Old MacDonald