Christmas Duets
CD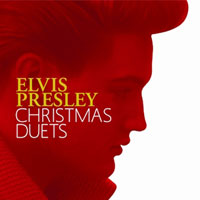 Released: 2008/10/14
by Sony BMG
Thirteen remastered Christmas classics; ten as a duet with today's female country stars and three sung just by Elvis.
ElvisNews review
The World Wide Web is faster than SONY / BMG; the new "Christmas Duets" CD is already available for download if you know where to look. From that download I wrote this preview and since it was available in a high audio quality (320 KBS) it will probably be very close to the sound of the actual CD when it will be released next week; if only for the complete duets.

Updated December 26, 2008:
What better time than Christmas' day to give this compilation another spin. When I first reviewed this album early October it was based on a download of the tracks before the album was released officially. Now I hold two copies in my hand, the Deluxe and the Canadian editions. A reader from Finland send us the Finnish duet with Hanna Pakarine so I can finally review all duets and releases.
Design
The download didn't come with a nicely designed package, the physical releases do. By now the count of different versions sum up to five; the standard jewel case, the deluxe red cut-out digipack, the white cut-out digipack from the UK, the Canadian version done in the same style as the "ELV1S 30 #1 Hits" package and the slipcase edition from India.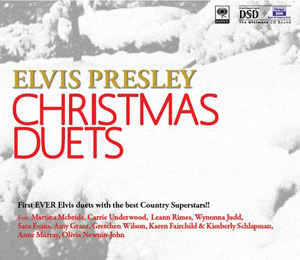 Repacking a release can be dangerous for the designers; the liner notes for the Canadian edition credit Alfred Wertheimer for the cover photo, but there isn't a cover photo on the booklet, just the modern type-font which isn't very Christmas like.
Besides this error the booklets are fine with quotes from the duet partners and all (re)recording data.
Content
The overall sound of the tracks is very bright and full, that takes a bit getting used to as the original versions sounded softer. Elvis recorded this material decades ago, today's techniques - both technically, vocally and singing style - are different, and you can hear that. The same goes for the new instrumental and vocal backing to Elvis' voice; all songs sound modern which does take a bit getting used to too. During the first few songs I could not help but thinking it sounded a bit too plastic and overproduced for an Elvis recording. But after a few spins I got used to the new sound
You can listen to a few snippets through the YouTube link.
Blue Christmas (Duet with Martina McBride)
This song is the second best Elvis Christmas recording in my book - after "Merry Christmas Baby" and shouldn't be messed with (too much). After a few spins I started to enjoy it as Martina McBrides's voice has the raw sound this song needs. It still sounds a bit strange, Elvis in duet.
I'll Be Home for Christmas (Duet with Carrie Underwood)
Carrie Underwood's voice sounds a bit too high next to Elvis' voice which has a much lower and warmer sound. When you hear both voice together she is too much in the lead.
Here Comes Santa Claus (Right Down Santa Claus Lane) (Duet with LeAnn Rimes)
LeAnn Rhymes has a clear voice that fits nicely next to Elvis' voice, Elvis is still in the lead. making this an enjoyable duet
Santa Claus Is Back in Town (Duet with Wynonna Judd)
Wynonna Judd recorded "Burning Love" a few years back and that version really rocked. So pairing her with our man in this song is a smart move as her raw voice fits the song. But the new backing to the voices is too much. The voices need to be in front of the music. A missed chance.
Silent Night (Duet with Sara Evans)
This song is a real classic, but I never really liked it as it sounds too sacred to me. But I must admit that Sara Evans and Elvis deliver a solid version although she plays a bit too much with the melody loosing Elvis in the process.
White Christmas (Duet with Amy Grant)
The Bing Crosby classic. It got a mid-tempo treatment which makes the song sound a bit more cheerful than Bing Crosby's original. Amy Grant just slips into the song leaving Elvis in the lead. She plays a bit with our man ("come on big boy") in a funny way. I like this one although the use of an Hammond organ is a little minor.
Merry Christmas Baby (Duet with Gretchen Wilson)
Gretchen Wilson delivers a nice and raw performance and Elvis enthusiastically calls out to his musicians but they shouldn't have touched this one, period. It was one of Elvis best performances ever and I can play this Christmas song when it is 40 degrees Celsius outside. Elvis shouting out to his band-members if it was a live jam sounds really superficial. The song lost the raw sound of the original.
O' Little Town Of Bethlehem (Duet with Karen Fairchild and Kimberly Schlapman of Little Big Town)
The Hammond organ is back on this Christmas carol, not my favorite instrument. I don't know any song by Karen Fairchild and Kimberly Schlapman but will get a CD from these girls, they really have nice voices (like Norah Jones). But for this duet it didn't work; the voices didn't match with Elvis' voice.
Silver Bells (Duet with Anne Murray)
Anne Murray is a name from the past. I think my father has some of her work. Her and Elvis' voice don't match as her voice is way to low for a bright song as this one. She reminds me of Willy Nelson, he sounds like he sings through his nose too.
O' Come, All Ye Faithful (Duet with Olivia Newton-John)
This is a real bombastic song and this version is really bombastic too. You hear Olivia Newton-John's voice has aged, it is much lower than when she sung her biggest hits with John Travolta or the Electric Light Orchestra. She too slips in very silently but takes over the song to the end. The voices match nicely though, so a good choice for a duet. There is even a link between the two artists, Elvis recorded several "Olivia Newton-John originals".
The remaining three songs aren't duets, they only added new backing to Elvis' voice. "The First Noel" lost the fragile sound the original had as the sound is too massive. The fragments with just a piano and Elvis' voice sound nicely though.

They completely destroyed "If I Get Home on Christmas Day" as the new backing is too modern and playful for this song and the lyrics. The worst track on the album. The CD closes with "Winter Wonderland", a very playful song. This version still has that sound, but not like the original did.So another missed opportunity for those who have the original in their head.
Winter Wonderland (duet with Hanna Pakarine)
Hanna Pakarine is the winner of the 2004 Finnish edition of Idols. Kind of strange that Priscilla Presley approved this duet with the young new singer and dismissed the duet with Cliff Richard (as rumors would make us believe, but this duet was mentioned by BMG Australia in a leaflet). It could have been a nice novelty hit or these two old men as Sir Cliff has a tradition of releasing a Christmas single almost every year. But with CXK behind EPE links between the various "product lines" were to be expected, so there are
Tracklisting
Rating: 5 / 5
Rating: 2 / 5
Rating: 3 / 5