Spankox Re: Versions (Elvis 1st. Remix Album)
CD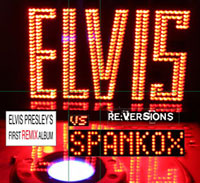 Released: 2008/05/25
by Everest
Elvis' first remix album with 11 "Re: Versions" by the Italian Agostino Carollo a.k.a. DJ Spankox.
ElvisNews review
Released May 2008 is the first complete remix album of Elvis. The Italian DJ Spankox, known in real life as Agostino Carollo, was brave enough to engage in this endeavor. Should he be praised or crucified?
Design

I reviewed the Deluxe Version which comes as a booklet with cardboard cover. Inside a ten pages booklet with pictures, quotes by some well known names in the music industry and pictures of Spankox' (studio)equipment where we find several links to Elvis. It would have been nice if the DJ would have added some personal liner-notes. The booklet comes in a hard plastic slipcase. Just like the first single, the first vinylCD ever, the producers really made an effort of the package.
Content
Regardless of the package most fans are interested in the content of-course. The content of this particular album may very well be the most controversial content of any Elvis' album. Many will say "who the f*ck is this DJ thinking he can touch classics like "Teddy Bear", "All Shook Up" or even Elvis' signature songs "That's All Right" and "Heartbreak Hotel"". A short run-down of the eleven mixes on this album.

The re: version of "Baby Let's Play House" is a song most fans know by now. This is one of the songs that has been reworked very much. The other songs on this album come in various levels of reconstruction but some of the elements used in this mix; bass, drum, electronics sounds and resampling of snippets find their way to most "re: versions".

The Re: Version of "Don't Be Cruel" song could do well in Europe the next three weeks during the European Soccer Championship with the use of the "stadium horn" sound.

"Teddy Bear" has become a funky bear, personally I would have used the signature piano intro a bit more.

A brave choice to include "Jailhouse Rock" as it is such a well known song. It really sounds pumped-up, the modern overdubs are a bit much, but this version could work very well in a disco.

The song 'All Shook Up" sounds all shook up, the wrong effect was used here, the song sounds very heavy and lost the freshness of the original.

"Blue Moon Of Kentucky" has been mixed softly with an additional beat and bass. It could have worked very well if it wasn't for the typical sound Elvis' SUN recordings have. If more early RCA recordings were reworked like this song even the "old" fans could enjoy them :-)

Remixing "Heartbreak Hotel" perhaps Elvis foremost signature song is like adding a mustache on DaVinci's Mona Lisa and trying to keep a serious face. It works on a t-shirt but not in the French Louvre museum where millions of fans come by. Spankox left the original pretty much in tact adding a big bass. This will work prett well in a lounge-mix on the beach but not listening to the song by itself. It is a bit "Too Much".

Talking about "Too Much" that song really has been reworked with bass and additional sounds. The signature guitar loop has been reworked into an electronic effect which kinda keeps this mix in line with the original, but again, a bass sounding "too much".

"Just Because" you're A DJ does not mean you can mix just about everything right. But this mix is the best mix on the album. The freshness of the original with a matching base-drum which updates the song to the 21st. century. Several mixes on the album have the words "radio mix" in the title, perhaps an indication of future single releases, but I hope this one get some more exposure.

Many fans who feel you should not touch Elvis' work as it is good enough to stand the test of time by itself may think of Spankox as an "heartbreaker", but perhaps they should listen to his re: version of "You're A Heartbreaker" which got the same treatment as "Just Because".

Touching the song "That's All Right" that "created Rock And Roll" is a dangerous thing in the Elvisworld. This Re: Version leaves the original pretty much in-tact adding only a bass and a few sound effects to this classic. Due to the slow beat added to the original that original sounds faster than this 21st. century remix.

The album ends with the videoclip of "Baby Let's Play House", but you can also watch it right here:-)


Conclusion
Remixes will remain controversial in the Elvis world. Like I said some will say it is like drawing a mustache on the Mona Lisa. But on occasions I like to wear a shirt like that. The same goes for this album, several songs may fit in very will on a sunny afternoon enjoying a few drinks at the BBQ with some up-beat lounge music on the background. The more reworded classics could spin a few heads in the disco when youngsters think I've heard this one before ... at granddad's house :-) But this was exacly what Spankox intended.

I'll leave the final judgement to you ... but leave with both the preview and a very funny reaction from Jerome who reworked the tracklisting to show his opinion.

Dear Spankox, after listening to the samples of your album, I'd like to recommend you to change the song titles in order to become more suitable:

1. Baby, Let's Make Noise
2. Don't Be Cruel To My Ears
3. Teddy Swear
4. Barnhouse Rock
5. All Messed Up
6. Blue Moon of Ken*ucky
7. Heartattack Hotel
8. Too Much (very appropriate)
9. Just Because I Can Press A Button
10. You're An Earbreaker
11. That's Not Allright

Make up your own mind: