Always On My Mind
CD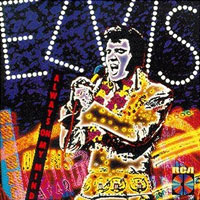 Released: 1985
by BMG
Ballad collection from the mid 80's.
ElvisNews review
The year was 1985 and this release was all there was that year (legally). Enough reason to buy it of course.
This CD contains 13 tracks, mostly from the '70's and all tracks were previously released on other LP's and CD's.
The title suspects us to find some real emotional songs on this release, and I must admit, there are!

Playing time: 41.15 minutes

Coverart

I don't know what RCA was thinking about when this cover was chosen. Did they want to compete with the screaming sound of the '80's, or was it a children's drawing contest? They used a drawing of Elvis, painted all yellow and purple and you need glasses to be able to read the track listing on the back. Another minor is the lack of any information about tracks, takes, dates or musicians. The inside is the same as the drawing on the back. Very disappointing. Let's hope the content is better.

Content

Elvis starts with "Separate Ways" from 1972. We all can imagine what went through his head, recording this song. Everyone who ever had to say goodbye to a loved one, must feel the emotion of this song and understand what Elvis went through. We move a while back to 1969 with "Don't Cry Daddy", which Elvis recorded in the American Sound Studios. His voice is warm and tender here. Now we all know the duet with Lisa Marie, but I prefer this version. I know, I know, she is THE daughter of the King but I am a fan of Elvis, not of his daughter. Back to 1973 to "My Boy" and I bet I am not the only one with mixed emotions here. I love and hate this song at the same time. The lyrics, the music, Elvis' voice, it's all a bit too much sometimes, but the song is beautiful.

Moving to 1976 with "Solitaire" and again my heart cries for Elvis. Am I the only one who can't help thinking about Elvis as a "lonely" man? I am sure Elvis could have written these lyrics himself. After a quiet intro, Elvis really hits it off with his great voice, although staying warm at the same time. What a performance he delivered here. We stay in 1976 with "Bitter They Are, Harder They Fall", a fine ballad, sung with dedication and also recorded in the Jungle Room.

Oh boy, here comes my song: "Hurt". I must admit, the first time I heard this song, it was sung by Timi Yuro and even then it touched my soul so deeply. When I finally got to know Elvis' version, I was astonished to the bone. Even through his spoken words, one can hear the emotion sounding through.

Moving one year back, 1975, "Pieces Of My Life" and Voice doing the backing vocals is beautiful. Take 4 was already the master and Elvis listened to the tape at least 30 times. It was a song about his own regrets and it moved him.

Elvis voice sounds a little bit younger and that's correct, we are in 1973 with the song "I Miss You". With Donnie Sumner on piano and the wonderful voices of Voice on the background. It's a favourite of mine! A few months later, but still 1973 we hear Elvis sing "It's Midnight" and again we only can think of his personal feelings around that time.

Again moving back in time to the magic year 1970 and there is "I've Lost You". Due to the lack of a booklet, but hearing the applause we can only guess this is the version of the dinner show August 11th. Well anyway, I don't really care, it's a beautiful version and Elvis sounds sincere and in great shape! With "You Gave Me A Mountain" we are in 1972. February, 16th, again in the Hilton in Las Vegas. This is one of my personal songs. I admit, I have to cry again, his voice moves me, every time I hear this song. Of course the whole entourage of the magic on stage helps too. The voices of JD and the Stamps, The Sweet Inspirations are wonderful here.

A big step in time, 1977, there it is: "Unchained Melody". Most of the fans will think instinctively about the version from the In Concert tapes. How very sad it was to see him there. I think this version is from April 4, Michigan. I can't give any further comment on this. My heart hurts for him here. Why wasn't he in hospital at that time, why wasn't there anybody taking care of him, instead of letting him go on ruining himself. As much as I would have loved him, if I had been around, I would have knocked him down and forced him to listen. Well, let's listen to the last song, from 1972, "Always On My Mind", studio version from March 29th, with the Stamps again. What an end of this CD. A very, very lovely song, which I can hear a million times. And that's what I will do with this CD. Play it over and over again and enjoy every note Elvis left us.

Conclusion

This is really one of those compilation releases you will play over and over again. The only minor is perhaps the playing time. I would have liked more songs on this CD. But never the less, in my opinion a "must-have".
Tracklisting
The reviewer and I are in total agreement about the music. It's great. We disagree about the cover. I like it. It's cool!! This is one of those comp. cds I've never grown tired of. If you can still find it, buy it.
Rating: 5 / 5
Good songs bad cover a collectors item on 33 RPM with purple disk,
Rating: 3 / 5