Suspicious Minds
CD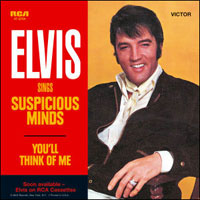 Released: 2007/08/16
by BMG / RCA
Each numbered CD will be released in 'mini-vinyl' replica card sleeves with an outer and inner bag. The outer bag will feature the original U.S. picture sleeve artwork, while the inner bag will replicate a generic U.K. RCA single from the time of the original U.K. release. Rather than have the standard silver finish on the 'playing' side of the disc, each CD rear will have a black finish, again to replicate a miniaturised version and the look of the original vinyl release.
ElvisNews review
A live rendition of this song entered the UK singles charts April 2001, will the original studio version do the same?

Design

The simple design of this single looks like a classic , but that is due to the fact that the song is a classic. The design is a one-in-a-hundred Tom Parker mock up. Strangely enough the cover says "© MCA" and not "RCA".

Content

The song, coupled with the nice ballad "You'll Think Of Me" (a song that shows which kind of music Elvis liked and would record in the years to come), is a strong double feature. The A-side is the all time fan's favorite song, what can I ad to that as a reviewer? Well, I can ad the background information, from Wikipedia:

"Suspicious Minds" is a song performed most notably by Elvis Presley, and was widely regarded as the single that jump-started his career after his successful '68 Comeback Special. It was Elvis's eighteenth number-one single in the United States. Rolling Stone later ranked it #91 on their list of the 500 Greatest Songs of All Time.

Song

Written by Mark James (who also wrote "Always on My Mind", which Elvis was to record later), the song was recorded along with at least another two hit singles—"In the Ghetto" and "Kentucky Rain"—in the so-called "Memphis sessions" of January 1969. He first performed the song at the Las Vegas Hilton on July 31, 1969, and the 45 rpm single was released in the fall. It reached number one in the United States in the week of November 1 and stayed there for that week. It would be The King's final number-one single in the U.S. before his death ("The Wonder of You" in 1970, "Way Down" in 1977 and a posthumous remixed release of "A Little Less Conversation" in 2002 all hit number one on the British charts, followed by re-issues of several previous chart toppers in 2005).

Notable in this song is a fade out at about 3:22 into the song, which lasts for about 15 seconds before fading back in. This fade out was intentional, as it helped convey a message of relationship in the song.
Tracklisting