Separate Ways
CD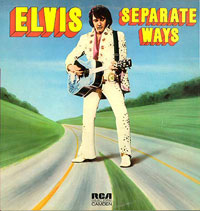 Released: 2007/03/13
by Sony Custom Marketing Group
Remastered reissue of this Camden classic.
ElvisNews review
The third batch of Camden Classics has been reissued by BMG, "Separate Ways" and "Burning Love And Hits From His Movies".

Design

These budget reissues come with a very simple design, as close to the original Camden design as possible, but with a few alterations due to the copyright on the use of registered logo's and the additional FBI anti piracy warning on the back.

I always liked the design of this album, it is so very seventies, guess they would call it "camp" these days. For a budget release it shows more creativity than the main releases on the main RCA label. Extra fun is the reissue of this album with a slightly different cover, using the same picture on a different background in which they didn't pay to much attention on the cutting, leaving part of the wrong image in the new design. Guess that says something on the status of these releases back in the day. It would have been nice if BBMG used the inside of the two blank pages in booklet to give some (historical) background on these releases and various covers or chart results (U.S. chart position #46).

Content

These releases really are a mixed bag of goodies. This one is one of my favourites since it contains both the title track and "Always On My Mind", two tracks I can play over and over again. In between these favourites some nice songs like "I Met Her Today" and "I Slipped, I Stumbled, I Fell" are nice to listen too. But the addition of "Forget Me Never" and the sad sounding "Old Shep" don't match the "sound" of the compilation. Fortunately these two songs are the last two on the album. But skipping these means the playing time remains little under the twenty minutes, that almost feels like the old days, having to turn the vinyl over to side B.

Conclusion

Reading the reactions on the re-release of these budget compilations many fans get a bit sentimental, I can go along with that for this reissue, it brings back memories. "Sentimental Me" fits perfectly in this setting.
Tracklisting