Burning Love And Hits From His Movies
CD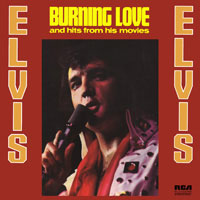 Released: 2007/03/13
by Sony Custom Marketing Group
Remastered reissue of this classic Camden release.
ElvisNews review
The last of the recent Camden reissues is the compilation "Burning Love And Hits From His Movies". Is it a "hot" release?

Design

Like all Camden reissues the design of this CD is very close to the original too. It was a crappy design when originally released and it still is today, nothing more to add.

Content

This CD is a mixed bag of goodies. Elvis' hit "Burning Love" coupled with movie material. I could be as short as I was on the design part of this release, a crappy release back then and it still is a crappy release today. It was slammed together for the quick buck and did not do Elvis' catalogue justice. The "Burning Love" single reached # 2 on the Billboard singles chart and hit # 1 on the rival Cashbox chart. But who dares to argue with The Colonel when the "$" roll in (the album reached #22)? Not even Elvis did ... On the pro site, the material on this release has been remastered.

Not all material on this release is bad of course, it still is Elvis' material, something I like :-) But "Guadalajara", "Santa Lucia", "I Love Only One Girl" and "We'll Be Together" are not on my frequently played list. Besides the title track "Tonight Is So Right For Love" comes around more frequently and occasionally "It's A Matter Of Time" and "No More" drop by.

When I'm in the mood for "Burning Love" I always play the 1999 complilation "Burning Love"; that's the album that should have been released in 1972. Just look at the track listing: Burning Love / Never Been to Spain / You Gave Me a Mountain (1972/02/16) / I'm Leavin' / It's Only Love / Always on My Mind / It's Impossible / It's Over (1972/02/17) / Separate Ways / Fool / Hound Dog (1972/02/14) Little Sister (1972/02/14) / A Big Hunk o' Love (1972/02/16) / Where Do I Go from Here? / For the Good Times (1972/03/27 studio) / It's a Matter of Time / An American Trilogy / The Impossible Dream (1972/02/16). A great mix of big ballads and sweaty rockers.

Conclusion

A nice addition to the collection of the sentimental fan.
Tracklisting