Elvis At The Movies
CD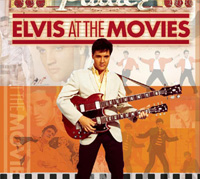 Released: 2007/06/05
by Sony/ BMG
A 2 CD digi-pack compilation with 40 tracks from Elvis' movies.
ElvisNews review
In between all the budget releases which we get in Europe on almost a daily basis, BMG popped out a compilation too; "Elvis At The Movies". Is it a classic, just like most of his movies?

Design

The set comes in a modern looking two panel digi pack with a poster as the booklet; the only way to add some content to this format. Reading Michael Hill's enthousiastic liner notes might even give us the idea Elvis had a great movie career, which by itself was "an unprecedented model of multimedia synergy" combining hit singles, movies and soundtracks. What was Elvis opinion on his movie career? This CD is linked to the rerelease of most of his movies on DVD by Warner Bros and Paramount, but in the design there is no link to be found.

Content

The compilation, described as mostly up beat which "portrays him as the dance-floor ready life of the party" is a bit over the top with "Do The Clam" from the classic "Girl Happy".

O.K. I can moan some more on the enthusiastic presentation of this set, but I won't. Why ... the set is quite listenable if you have a remote control in your hand to skip "Love Me Tender" (just heard that song too often) or "Do The Clam", "Clambake" or "I'll Be Back". In between these songs you find real classics like "Jailhouse Rock", "King Creole", "Bossa Nova Baby", "What 'd I Say"' "Let Yourself Go" and "Stay Away". Even "Charro" fits in on a sunny day with that typical spaghetti western sound.

With material like this we go back to the titles The Colonel came up with to sell this material "Something For Everybody". Because there are some classics everybody knows and some lesser-known songs Joe Public doesn't know so he could be compelled to pick up this a copy of this set if he browses through the "P" at his local record store.

If you're still not convinced you need this CD in your collection, the discussion on the sound quality, as we read it on the For Elvis CD Collector's forum, might convince you to buy it:
"The DSD mastering has produced mixed results. You'll be delighted to hear that 'Do The Clam' appears with a wider stereo image than before, but that other classic 'Shake That Tambourine' is lifeless. Compared to the double feature cut, the one on this CD lacks punch. Ditto 'Frankie And Johnny', which is a real Colonel Parker mix (Elvis up front and instruments way back). Clearly, RCA haven't bothered going back to the master tapes for this enterprise … Other tracks, however, such as 'Kissin' Cousins' and '(Such An) Easy Question' are pleasing on the ear … For the Viva Las Vegas tracks they didn't use the FTD remixes (a pity)"

And if this does not convince you, the running time perhaps will; CD one clocks around 46 minutes, the second disc just under 50 minutes. Why not add an additional 10 tracks per CD if the material is that good as the liner notes make you want to believe :-)?

Conclusion

An attractive looking package with some great tunes and some lesser ones (if my personal taste is any guidance) but too many movie highlights are missing from this compilation making "Command Performances" still the definitive movie compilation.