Tomorrow Is A Long Time
CD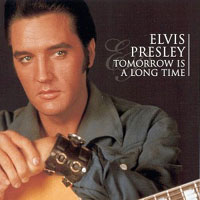 Released: 1999/05
by BMG
ElvisNews review
Sometimes the most obvious can be overlooked. Just this week I came across a CD that wasn't reviewed yet. What a shame, especially because it is a favourite of mine!
You can think by reading the track listing, "why do I need another compilation CD?", but believe me, you do need this one.

Coverart

They used a beautiful picture of a "slow-looking" Elvis on the front. The booklet is very complete and the inside is printed in red and black, but still the content is easy to read. On the back of the booklet you'll find a second picture from the kind used on the front. Removing the CD you will see a wonderful picture of a laughing Elvis dressed in a white suit, taken from the movie: "Trouble With Girls", not a punishment to look at, if I may say. On the back you can find Elvis behind the wheel of an convertible car. RCA receives 7 points for the design from me.

Content

There are 18 songs on this release, all recorded between 1966 and 1968. Of course they are all digitally remastered and one by one a pleasure for your ears. Except for one maybe, but that's personal. All fans will have these songs more than once on other releases, I am sure, but this compilation is well sought out and belongs to the ones you take with you in your car or even put in your player while having visitors at home. It's an easy-to-listen-to CD.
The title, "Tomorrow Is A Long Time", written by Bob Dylan, almost gave me the illusion of a fairy tale…… once upon a time, long ago, there was a young man who wanted to sing more than anything in the world. Let's listen to him, shall we?

The CD begins with "Too Much Monkey Business", a nice up tempo song with lovely lyrics. The guitar sounds great on this one. Staying with guitars, "Guitar Man" is next. A classic song of course. I always try to sing along, but I never succeed. What a tempo here! The typical guitar play of Jerry "Reed" is so nice to hear. When I was little I always thought Elvis played this himself, he really was my guitar man. Ah, the title song, "Tomorrow Is A Long Time" begins. More than 5 minutes and with the sound of Elvis' voice it really is a song like a fairy tale. Give Bob Dylan the respect he deserves and listen to the lyrics.

"U.S. Male" is next and again the guitar provides the most important sound. The Jordanaires are wonderful here. I love those voices! "Big Boss Man" follows and I can't sit still anymore. This song became a favourite of mine a very long time ago. Not in the least thanks to the sax of Boots Randolph. And then, here is it, a moment to linger with "Love Letters", which girl didn't "memorized every line and kissed the name that he signed". A song straight from his heart, just like the next: "Indescribably Blue". So beautiful, so full with emotion, it makes me shiver. The Imperials are perfect here, but the real reason this song moves me every time I hear it, is Elvis' voice. He sings it with his heart.

"Fools Fall In Love" brings us back on earth again. This song swings from start to end. Thanks to the remastering you will be able to hear every instrument used here. I love that horn section! Staying up tempo with "Hi-Heel Sneakers" that follows and I really wished I had a red dress hidden somewhere! The saxophone still playing an important role here. Why didn't Elvis keep using saxes in the 70's as well? It would have been nice to watch a saxophone "singing" the second voice on stage. It is time for the next bluesy song: "Down In The Alley". What more can I say? They are having a ball and that ain't all… The pleasure of doing this song is so clear.

"Come What May", just an easy to listen song. Nice tempo and very joyful. Again a full horn section playing along. Much more introvert is the next song: "Mine". Just Elvis and Floyd Cramer at first, but the Jordanaires joined them. One word: perfect! A really C & W song "Just Call Me Lonesome" is next. Sorry, this one is not among my favourites, but then again, different people, different tastes. The song that follows now makes me shiver all over and the lyrics are able to move me to tears every time I hear it: "You Don't Know Me". Elvis is so full with emotion here, his voice so warm and tender, one can only believe he meant every word of this song. Believe me, I wouldn't have walked away.

"Stay Away" starts already and wakes me up right from the start. A real up tempo ballad and sung with dedication. The band is playing their finest. "Singing Tree" follows. What is the most positive thing I can say? Let me think, yes…. It's over in 2:17 minutes! So hang on or skip this one. At least it is followed by a wonderful song: "Going Home". I took the time to print the lyrics and tried to sing along…. It's impossible! But what a lovely tune this is.
Last but most definitely not least "I'll Remember You". Truly one of Elvis' most beautiful songs. Even non-fans (are there any???) must admit now once and for all Elvis had the ability to sing with his whole heart and soul. We will sure remember him!

Conclusion: This release may not have been the most exciting one, but belongs in every collection. The whole choice of songs makes this the kind of CD you take with you in your car, on holiday and in your discman.

Tracklisting