Let's Be Friends
CD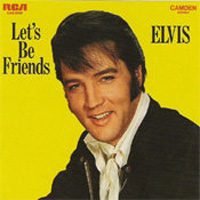 Released: 2006/09/26
by BMG Special Products
The first official CD release of this original seventies Camden compilation.
ElvisNews review
I reviewed the bootleg version of this release about one and a half year ago, now we have the official CD debut of this album.

Design

The design in this reissue series remains close top the original LP release - this is the first reissue with the actual Camden logo on it - adapted to the CD format.

Content

The CD itself – as with the other releases in this series – is a trip down memory lane for most "grey haired" fans. We reviewed the compilation as a budget compilation with some lesser played gems like "If I'm A Fool (For Loving You)" and "I'll Be There" which we haven't played in a while. The producers of this legal CD reissue made the same error the producers of the bootleg version made; they used the 58 second version from the Double Features release of the song "Mama" on this CD while they should have used the long version (for the collectors, this version is available on "Elvis Latino!").

Conclusion

Another original album released on CD, unfortunately, BMG didn't correct the errors … As fans we may expect at least a correct and complete release from the official record label.
Tracklisting