You'll Never Walk Alone
CD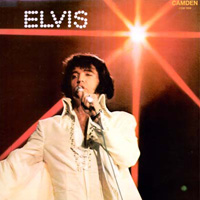 Released: 2006/09/26
by BMG Special Products
CD reissueof the original seventies Camden album "You'll Never Walk Alone" on the BMG Special Products label.
ElvisNews review
BMG Special Products reissues the old "Camden" records compilations. Is it special?

Design

The reissues of the old Camden budget compilations are recreations of the original cover art, but updated a little too modern times and (CD) media. Like the previous two releases in this series, no liner notes what so ever.

Content

This compilation – if we dare to call this 9 tracks a real compilation these days – contains several gospels which were hard to find or even unavailable at the time of the original release of this album in the seventies. From a fan's point of view the only worthy goal of these Camden compilations was to keep this kind of material in circulation. The "You'll Never Walk Alone" album compiled the religious tracks that were on the original 1957 Christmas album – like "Peace In The Valley" - which were omitted on the 1970 Camden Christmas compilation with several unreleased religious tracks like "Sing You Children" which had been featured on a deleted EP.

By itself is a nice spiritual compilation, although I must admit that I associate the title track more with soccer than religion. With the exception of "Let Us Pray" which sounds country like, the remaining songs almost all have that sacred feel and performance a gospel needs, this compilation could very well be played around the Christmas three. And that is not bad for a smart marketing stunt by The Colonel in the 1970's selling this kind of - partly 2nd choice - material.

Conclusion

A nice and untouched (read the review of the "Elvis '56 Sessions" reissue) reissue, fun to have these original releases in our collection, but the content is way too short for today's standards. The CD was done before I finished this review.
Tracklisting