Elvis Rock
CD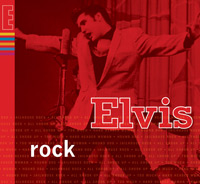 Released: 2006/02/28
by Strategic Marketing
Rock compilation, part of a 6 CD worldwide themed series.
ElvisNews review
Released by SONY/BMG in a series of six themed compilations is the CD "Elvis Rock". Didn't we already have a few of these?

Design

Elvis conquered the world through his Rock (and Roll) music and early television appearances. The picture from the Milton Berle show shows the King at work. The modern design lifts the fifty year old image into the 21st. century.

Content

The liner notes open with "If you like it, you feel it, you can't help but move to it... And once you feel it... don't even think about staying still". We can't agree more, with this kind of music you can't help snapping your fingers and tap your feet. All tracks on this compilation were recorded between 1956 and 1958, making this a real rock and roll compilation.

This is the music that put Elvis on the map and set a generation of teenagers free. Some of the tracks are raw, like "Hound Dog", "Tutti Frutti", "Wear My Ring Around Your Neck", "I Need Your Love Tonight" and the classic "Jailhouse Rock" while others are more polished like "Don't Be Cruel" and "I Got Stung". Together these songs define Rock And Roll and prove their status as classics.

Do we get anything new? No, not really. A lot of these DSD remasters have been taken from the previously DSD releases "ELV1S 30 #1 Hits", Elvis 2nd To None", "Elvis By The Presley's" and so on. So only a few new DSD remasters for the older fan. Does that make it a bad release? Not at all, these tracks are the foundation of modern music, but above that, very enjoyable! Perhaps BMG can do a follow up with the sixties and another one with the seventies rockers. That way we get three great compilations with balanced sound (just listen to the difference between the rockers "All Shook Up' and "Burning Love" sound wise). A compliment to Ernst and Roger for their choice of music for this one, hope they can continue some more in this line.

Conclusion

Just like the "Elvis Country" compilation. We want to describe these releases as "old wine in new bottles", but old wine can taste very well.