Elvis Inspirational
CD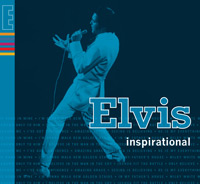 Released: 2006/02/28
by Strategic Marketing
Gospel compilation, part of a 6 CD worldwide themed series.
ElvisNews review
Released by SONY/BMG in a series of six themed compilations is the CD "Elvis Inspirational". Didn't we already have few of these?

Design

As put very well in the liner notes, Elvis (stylish) performance of "If I Can Dream" as "showstopper" showed us what Elvis was all about as a person. Although accused of doing the devil's work he liked to hang out with angels. For a "gospel" compilation this image from the "'68 Comeback Special" is a great choice.

Content

The liner notes focus on Elvis personal love for gospel and message songs. Although a rocker on stage, he performed gospel music at home or with his (musical) friends. Reading the title we expected a gospel compilation, but we don't get that.

Songs like "Danny Boy". "In The Ghetto", "Mama Liked The Roses", "I'll Take You Home Kathleen", "A Thing Called Love", "And The Grass Won't Pay No Mind", "Wonderful World" and "Bridge Over Troubled Water" are great songs, but certainly not gospel songs. Some of these are message songs at the most, but "Mama Liked The Roses" (always thought BMG considered this a Christmas song since it pops up on Christmas compilations) or "Wonderful World"? The latter is a dissonant in an in other ways good sounding compilation; it falls kind of out of tune with the "sound" of the other songs.

Just as with the other two volumes in this series we can't say it is a bad compilation. A lot of these DSD remasters have been taken from the previously DSD releases "ELV1S 30 #1 Hits", Elvis 2nd To None", Elvis By The Presley's" and so on. So only a few new DSD remasters for the older fan.

Conclusion

So what do we get. A nice compilation of "message songs", but not the inpirational album we expected. Just like the "Elvis Country" and "Elvis Rock" compilations we want to describe these releases as "old wine in new bottles", but old wine can taste very well.