Heartbreak Hotel - 50th Anniversary Single
CD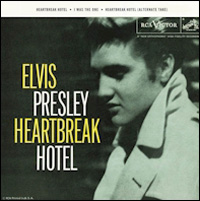 Released: 2006/01/10
by RCA
Released to celebrate the milestone 50th anniversary of Elvis Presley's first RCA recording session and first #1 hit "Heartbreak Hotel".
ElvisNews review
Released to celebrate the 50th anniversary of Elvis first nationwide #1 hit SONY / BMG re-released "Heartbreak Hotel".

Design

Contrary to the "That's All Right" re-release the front cover of the single does not come in the original design of the single release (a generic RCA paper sleeve) but with the cover of the EP that was released in April of 1956. The original single artwork is used inside. This shot of Elvis remains a personal favorite, and a classic one as it found its way to the "Christmas Peace" release too. It is a pity the color of the paper wasn't used to fill out the entire inside cover, now it leaves an empty white space. Although the total design is done very well with a picture disc we have one big disappointment; why not create a vinyl look for this single too when two weeks after the release of this single a complete box of singles with vinyl look are released?

The yellow sticker label says "First RCA Recording", but that was "I Got A Woman". Apparently there are versions of the single around with a wrong date (November 11, 1955) for the RCA contract signing.

Content

Recorded on January 10th, and released on January 27th 1956, "Heartbreak Hotel" crossed genres, topping various charts in the U.S. and from there around the world. After "That's All Right" marked the birth of Rock And Roll, this single marked the birth of the King Of Rock And Roll, and it is not even a Rock And Roll song. Elvis just put together what he knew and liked.

A very melodramatic song about a man left by his girl, hinting on suicide, and that recorded performed in 1955 and put on tape in 1956. We have heart other version of this song, but no single version can top this performance by Elvis. And let's not forget the great guitar licks by Scotty Moore, they are as much part of the song as Elvis' voice and Bill Black's bass. This single comes with take 6 (with count-in) of this song as a bonus.

Fifty years after its initial release the single still remains a strong song, topping the (sales) charts in the U.S. again. And with the U.K. re-release coming up a possible hit on that side of the Atlantic too.

The flipside "I Was the One," gets overshadowed because it was the flipside, but it can hold its own and stood the test of time, listening to it fifty years later.

Conclusion

A nice idea to re-release the song, it got Elvis a lot of media attention (for selling only 4500 copies to make it to #1 on the sales chart) and reminded a younger generation where it all came from.
Tracklisting