The Hits (Golden Records 2 - 50.000.000 Fans Can't Be Wrong)
CD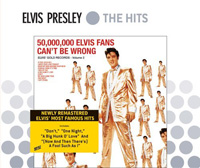 Released: 2005/08/23
by BMG
Limited Edition re-release with collector's slipcase of the original album.
ElvisNews review
Limited Edition re-release with collector's slipcase of the original album.

Design

Released in the "The Hits" series by SONY (BMG) this classic album, with next to his first release perhaps the second most classic Elvis cover, gets a small make-over to fit the design of the series. With the original still in tact, this modern look may attract some of the newer fans.

Content

After listening to some crappy audience recordings (life is hard for an ElvisNews editor) this re-release of Elvis' second greatest hits compilation is a real pleasure. Great songs in great sound… what Elvis does a fan need? The liner notes on the back describe it well "from the sexy R&B (ed. which was still real music back in those days) cuts "One Night" and "A Big Hunk O' Love" to the gospel flavored ballad "My Whish Came True" and the country classic "A Fool Such As I", to the pure pop sound of "I Need Your Love Tonight" and "Don't"". Personally we don't really like the last one, but even with that song included this CD was a real joy to listen to again. Unfortunately the fun is over way to fast… fortunately we have a repeat!

The "The Hits" compilation is supposed to be remastered, but the booklet, only a double printed piece of paper, does not mention it. It simply sounds great. To be honest, we can't hear all the small improvements we simply enjoy the clear sound.

Conclusion

Even RCA can't go wrong with this compilation… They can still improve it though; we're just waiting for the FTD re-release and we can stop buying this title.
Rating: 5 / 5
Rating: 1 / 5