Southern Nights
CD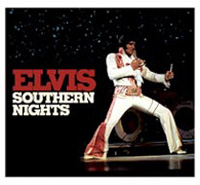 Released: 2006/01/09
by FTD
A live soundboard compilation from the Spring Tours of 1975 and a companion set to "Dixieland Rocks". It shows just how vast Elvis's repertoire was at that time, with 19 songs not featured on "Dixieland Rocks".
ElvisNews review
The Follow That Dream label brings us this latest release "Southern Nights" which is more of a compilation of live songs, recorded live on stage throughout 1975.

Design

First off, there is one of my favorite pictures of Elvis on the cover of this release. Elvis looks so cool and in control, and red is definitely his color!

Content

The Follow That Dream label brings us a compilation of live songs, recorded throughout 1975 (or a major chunk of it). The concerts were definitely exciting for those who attended, the shows were many and at this point in Elvis' career, he was just happy to be on stage with the fans, it was really the only times he felt good.

Just a few short years ago the King had been beamed across the world via satellite, conquered the garden, been back home to Memphis and painted all the angels in the Hilton showroom. So, what was left for Elvis? He was uninspired in the studio, his personal life was at an all time low, all he had were the fans, and they loved him.

I remember the first time I heard Elvis live in 1975, it was on the Elvis Aaron Presley box set from 1980. You all remember the big "D" Dallas show, one of our first exposures to a "soundboard" recording. Elvis was so funny, (how old are you kid … thirteen?") and we had never heard that much between song banter before, it was neat to hear.

This release gives us more of that side of Elvis. 1975 has Elvis pretty much getting thru each song so he can talk to the audience some more. Most of the songs on this release, even though some are odd for this time period, are un-inspired and was a hint of what was to come in 1976.

The sound itself is above average soundboard, some songs with little or no horns or orchestra, but still very enjoyable to listen to. Elvis' voice is very upfront and sounds clear and strong. The tunes are, again, all average versions with some definite throw a ways. "Burning Love" is attempted, but stops abruptly for "Polk Salad Annie". "Big Boss Man" is fun also, with the piano upfront and a delight to listen to. Elvis is in a good, fun mood and he is having a blast, but the performances are a far cry from the year priors "Memphis homecoming". Although some songs are always a pleasure to listen to any time like "Trying To Get To You" and "It's Midnight" and a rare treat is the sad "I'm Leaving".

The release, of course, makes sense, and is a very welcome addition to any fan's Follow That Dream library. Some of the tracks you will definitely recognize from other "bootleg" recordings, but this release has superior sound despite some obvious tape warbles.

Conclusion

The Follow That Dream label, in all their glory, has given us yet another "historical time in Elvis' career" segment for us to enjoy, and some will definitely enjoy this.

Hey, I would have given an eye tooth to see Elvis in 1975 or anytime for that matter, so when we are treated to these glimpses into the "life and times" of Elvis and his concerts, one can only stop and think how lucky we fans really are. The folks who are in charge truly understand the fans and are making sense of the King's career, and one hundred years from today, some young kid will fire up his computer and download Elvis' entire career, and if he or she is lucky, it will take them a lifetime to enjoy as we did!
Tracklisting