Tickle Me
CD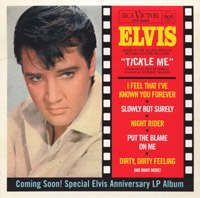 Released: 2005/07/01
by FTD
The soundtrack for "Tickle Me" in the special 7" package with booklet.
ElvisNews review
A CD in the FTD "original soundtrack series" that we expected at the very end of the series saw the light of day recently.

Design

We don't have the original EP, so can't really compare this "art" work with it, but on first sight it looks like BMG only had a wrinkled version too, of which they had to make this one.. The booklet (also with a very strange form of art on the front) itself is fun, with memorabilia and too tiny pictures of Jocelyn Lane.

Content

Although the movie had a pretty strong soundtrack for an Elvis movie and a co-star that was worth looking at, this CD wasn't the one we expected at this stage of the series. First it is very short, but okay, FTD already promoted EPs to successful CDs, but at least those brought some outtakes we didn't have officially. Secondly, the soundtrack was strong because only "old" studio recordings were used. So this CD release has nearly nothing new to offer, since most studio outtakes are released by now on the main label (Essential Elvis) or FTD (the Nashville-series).

Still, we have to admit, the CD offers a nice compilation, only disturbed by two radio trailers (why don't put both of them at the end of the CD?).

Conclusion

Unnecessary may be too strong if we want a complete soundtrack series, but too early is the least we can say.
Tracklisting