Due for release from the new International label is Elvis That's The Way It Is – The Complete Works.
The stunning lavish box set will come with 6 CDs containing complete recordings of all the 6 shows (each 70+ minutes) that were recorded for the original movie Elvis That's The Way It Is. It includes many unreleased tracks (both officially and unofficially) from the shows with all the dialogue in its correct places, much of which is also previously unreleased.
The set will also contain 3 dual layer DVDs with complete shows never before seen and heard with multi angle viewing and, will include a stunning hardback book. The set has been produced in very limited numbers. A promo trailer and more details will follow soon.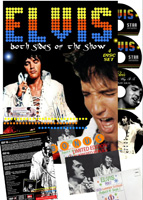 Also announced, by the Star Entertainment label, is a 4 disc box-set including three DVDs and one CD. This set is called Both Sides Of The Show and is also focusing on That's The Way It Is.
The first DVD will include most of the footage from the July 1970 rehearsals from the MGM studios. The second DVD will feature the opening show from August 10, 1970 in Las Vegas. The third DVD will feature the That's The Way It Is soundtrack and as a special bonus the box-set will also include an alternate version of the original soundtrack album.